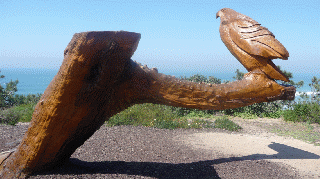 "La Jolla--This seaside city has much to offer the visitor"
by Joe Hilbers .
Southern California enjoys one of the world's most scenic coastlines. Nestled along this coast are beach communities and cities, some devoted to serving visitors with classic beach pursuits, while others using the seashore as the backdrop for a stable urban community Two in this grouping are La Jolla and Del Mar. The fame of La Jolla extends far past the borders of California, and indeed of the USA. Its charm and ambiance have remained through the decades and its location by the nearby fantastic seascape still gives the visitor the feeling that all is well in the world.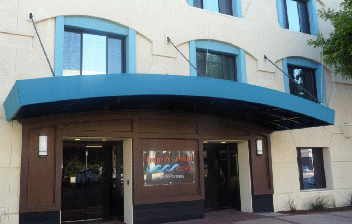 Downtown La Jolla invites one to a pleasant stroll while leaving your car idle.
On our recent visit we found the perfect place to act as our base. It is the Empress Hotel situated in the heart of La Jolla Village within a few blocks of the seashore so popular with locals and visitors alike. From the moment we checked into the hotel we knew that this would be a special experience. Immediately there was someone to remove our luggage from the car and then whisk the car away for safe parking. At the desk was front office supervisor Seamus Jordan who took charge of the luggage while we went to the top floor where our two room suite was located.
One room was a parlor with a large table complete with a bottle of California Cabernet Sauvignon. Also a full sofa, two lounge chairs, one wall with large picture windows where a very blue ocean awaited. Also a desk for my computer as well as a large TV screen. The other room equally as large included more picture windows, a king size bed, an inviting sauna bath, his and hers wash basins and a step in full shower
After settling in we decided we wanted to know more about this mid size boutique hotel so we sought out General Manager Joel Majors and he suggested we meet the following morning in their picturesque dining and relaxing lounge room. This we did and also met Trisha Sammons, director of sales.
Empress Hotel is one of twelve owned and managed by Greystone Hotels based in San Francisco. The boutique hotels and inns are all located in California and Oregon and focused on providing an exceptional guest experience for business and leisure travelers. Each of the properties offers a unique decor and program that matches its location. In our chat both Joel and Trisha emphasized that the goal is always customer service and satisfaction. The Empress Hotel has 75 rooms and suites and offers a complimentary Continental Breakfast which we thought was exceptional as well.
Adjacent to the Empress Hotel is the Manhattan Restaurant which is separate in ownership and management. It shows a complete Italian cuisine and serves dinner seven days a week starting at 4:30 p.m. Evenings there is a piano bar for entertainment. Hosts are Brian and Nancy O'Donald.
Empress Hotel is located at 7766 Fay Avenue, La Jolla, Ca. 92037, Tele.858 454-3001, web www.empress-hotel.com.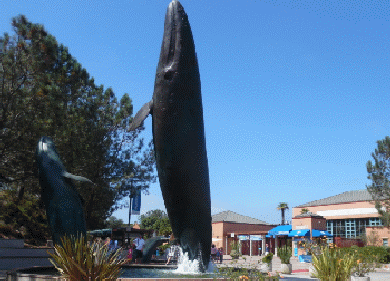 Coast Blvd. which follows the famed coves and cliffs of La Jolla shoreline is very busy sixteen hours each day with visitors. We joined the throng, then took some photos including a couple of selfies.
One of the places that we were determined to visit on this trip was the Birch Aquarium at Scripps Institution of Oceanography. It was only about a ten minute drive from the Empress Hotel, pass the lovely campus of UC San Diego, to the Aquarium. It enjoys a scenic location situated on a bluff overlooking a huge sweep of the Pacific Ocean below.
The Tode Hall of Fishes gallery starts with the Pacific Northwest Coast showing octopus, giant sun stars and wolf eels. Then a look at below the waves of San Diego Bay. One exhibit shows a two story kelp forest and another some of the sea life in Mexican waters to the south. Children enjoy the tide pools where they can actually touch some of the creatures. This is located on the plaza that also offers the majestic view of the Scripps facilities and long views of the sweeping rugged coast line of the ocean. The Aquarium offers a full calendar of special summer events with special whale and wildlife cruises as well as a concert series. We found the Birch Aquarium educational but also a wonderful place to idle away some time on the serene patio with its wonderful overlooks.
Birch Aquarium is located at 9500 Gilman drive, La Jolla and road signs make it easy to find. It is open daily from 9 a.m. to 5 p.m. and there is three hour complimentary parking. For more information call 858 534-fish, on the web at www.aquarium.ucsd.edu. Del Mar, just north of La Jolla, has a long list of its own attractions including long stretches of sandy beaches as well as a famed surfing break. We noted the golf course with some interest. During World War ll it was Camp Callan, and it was there that I became a soldier and took my basic training. Now the surrounding bluffs offer nature trails and the sparkling Pacific. They are much more appreciated now than when we had to practice war making and such on them. I remember them most for the nasty case of poison oak that I got there.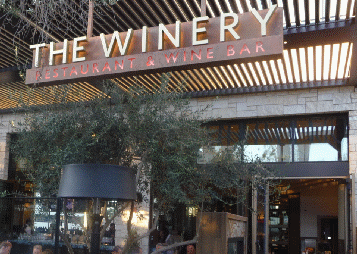 The first day we were at the Del Mar Fairgrounds to attend a wine tasting. Then returned the following day to enjoy lunch at Milton's New York style Deli. This restaurant is a local legend with its popularity now at the quarter century mark.
A must on this visit was to experience The Winery Restaurant & Wine Bar which opened in La Jolla in 2018. We already had experienced its five star cuisine and premium vintages at its other two locations, one in Tustin and the other in Newport Beach.
Now the same culinary expertise and handsome decor has been revealed once again at its La Jolla location. Here we met Greg Omoto, general manager as well as Chef Michael Montaya. The menu is huge and there are always chef specialties like Risotto and lobster, or Rabbit Furchette or Chilean sea bass with cous cous. Our server was Damign Ecken who showed the same professional care that earns all three Winery Restaurants five stars each year from the Southern California Restaurant Writers.
True to its name The Winery offers a huge selection of wines from all parts of the world.
In La Jolla The Winery Restaurant is located at 4301 La Jolla Village Drive. Tele. 85 230-7404, web www.thewineryrestaurants.com.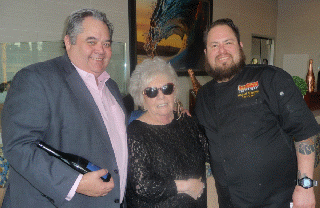 Another interesting restaurant we visited was Herringbone, just a short walk from the Empress Hotel. The decor here takes center stage with live trees present both in the cocktail lounge and the very spacious dining rooms. The menu is American casual and there is live entertainment. We ate our flatbread while being entertained with Mike Myrdal, singer/guitarist, Herringbone is located at 7837 Herschel avenue, La Jolla, Tele, 858 459-0221, web herringboneeats.com.
Part of our visit to La Jolla and Del Mar was to attend the Family Winemakers of California Tasting which took place at the Del Mar Fairgrounds. This was the 29th year that this event took place with 70 family owned wineries in attendance.
The result was that almost every wine producing region in the state was represented. And the number and types of varietals shown by these wineries almost beyond count. This tasting is so popular that again this year the sold out sign was posted well before the actual opening took place.
The Family Winemakers of California is the political and policy voice for small family-owned wineries as well as an education tool to allow consumers a greater choice in selecting California vintages. President is Edgar Downs with Jon Phillips of Inspiration Vineyards & Winery as Chair.
Family Winemakers of California are located at 1001 K Street in Sacramento, Ca. 95814, Tele. 916 498-7500, web www.famiy winemakers.org.
Back to Table of Contents..
Last Update:3/20/19
&copy 2019 Joe Hilbers All Rights Reserved.
Graphic Design by Impact Graphics