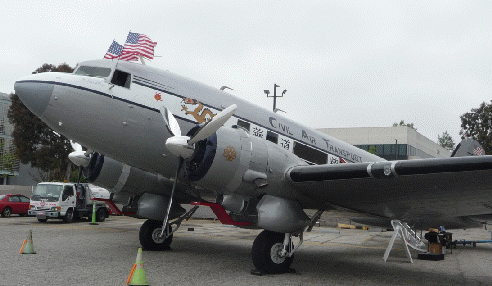 "Santa Monica--An airport wine tasting heralded the part 'Spirit of Benovia' will play in the 75th anniversary of D Day"
The Editor's Vineyard.
The 75th anniversary of D Day will take place in France and include a squadron of World War ll airplanes flying from the U.S. Included is "The Spirit of Benovia", originally a C 47 taking supplies to Burma during that war. A tasting of Benovia wines from Sonoma took place at Santa Monica Airport and included the owners and pilots of the aircraft which will soon be on its way to Europe.
As a World War ll veteran I attended and was able to relate how I was flown from Germany to France in a similar C 47 following my liberation after being a Prisoner of War in Germany. At that time I was a nineteen year old Rifleman in the 106th Division and was captured, with all in my regiment, three days after the Germans opened their final offensive in a battle which became know as Battle of the Bulge.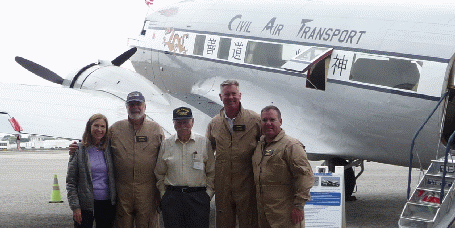 The Spirit of Benovia will leave Santa Rosa on May 13 on its long journey to France as one of what is called the D Day Squadron. It includes 30 other restored C 47 which were the planes that dropped American and British paratroopers into France on June 6, 1944 to launch the D Day invasion. In France many events will mark the 75th anniversary including a dramatic drop of hundreds of paratroopers. All to honor the thousands of American and British soldiers who lost their lives on D Day and in the many days of combat that followed.
The Spirit of Benovia has a full and colorful history starting in 1942. The C 47 and C 53 Skytroopers were used both in Europe and the Pacific for moving troops and supplies. During World War ll the Benovia supported the war against Japan by flying men and supplies over the Himalayas from Burma to China. After the war the plane saw civilian service in China and later with the CIA on covert missions. It was acquired by Joe Anderson and Mary Dewane, co-founders of Benovia Winery in 2008 when it was renamed The Spirit of Benovia. Since then the plane has been used to honor World War ll veterans and their families.
:After the D Day celebration is over the Benovia will remain in Europe to take part in the 70th Anniversary of the Berlin Airlift. Again all types of the Douglas DC 3 and C 47 planes will take part along with German Junkers Ju-52.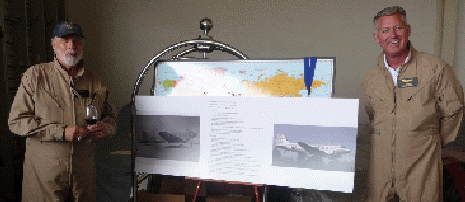 At the Santa Monica send-off event the Benovia wines poured included 2017 Russian River Valley Chardonnay, 2018 Rose of Pinot Noir and two Pinot Noirs, one 2017 and the second an estate 2016 vintage. As those in attendance sipped the wines Joe Anderson related the schedule and route the Spirit of Benovia will take on its epic flight.
Back to Table of Contents

Last Update:5/2/19
&copy 2019 Joe Hilbers All Rights Reserved.
Graphic Design by Impact Graphics