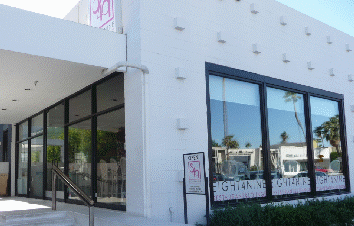 "Palm Springs--'Delectably Palm Springs' perfectly described our culinary adventures"
By The Editor
Palm Springs Preferred Small Hotels was the organization that sponsored our visit which was entitled "Delectably Palm Springs". Certainly a well chosen name for it describes our culinary experiences perfectly.
One evening we were at Eight4Nine Restaurant and Lounge. With a glittering contemporary design and ambiance it showed an equally exciting menu.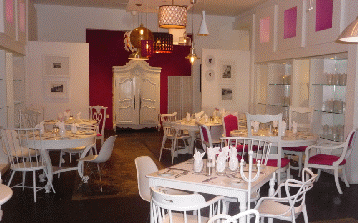 Our dinner opened with roasted beets with baby kale, toasted cumin and goat cheese with honey vinaigrette. The wine with the starter was Turnbull Napa Sauvignon Blanc. Our entree was the beef tenderloin with filet of beef, St. Agur blue cheese and red wine reduction accompanied with fingerling potatoes and roasted carrots, the wine Aexander Valley Vineyard Cabernet Sauvignon. For dessert we chose the flourless chocolate torte and Russian River Kobler Syrah.
The skill and attention of the wait staff added to what was truly an outstanding dining experience. Eight4Nine is a large restaurant with several dining rooms to fit different sized events and includes a handsome patio.
We also admired the bar and lounge which was just right for people who enjoy a club style ambiance and atmosphere.
Eight4Nine is located at 849 N. Palm Canyon Dr., Palm Springs, Ca. 92262, Telephone 7650 325-8490, web www.eight4nine.com.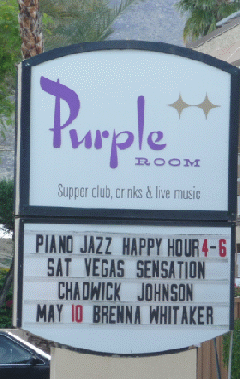 When I learned that we were also going to spend an evening at the Purple Room it brought back some memories for in the 1970s no one went to Palm Springs without spending some time there. Now we were back and thoroughly enjoyed our evening and dinner, this time with Host and Owner Michael Holmes on stage showing his skills as a singer and stage entertainer. I should add we were also much impressed by his two side men, pianist and drummer, both skilled, talented professionals.
The menu showed many interesting appetizers and the short ribs caught our eye as our entree. Mostly we just sat there at a show that reminded us of how Las Vegas lounges used to feature such entertainment. Here at the Purple Room the club show was back. Other performers at Purple Room include Rose Mallett, Jazz legend; Vocalist Sharon Sills, and a laugh in with Jo Anne Worley.
Michael Holmes Purple Room is located at 1900 E Palm Canyon Dr., Palm Springs, Ca, tele. 760 322-4422, web www.purpleroomplamsprings.com.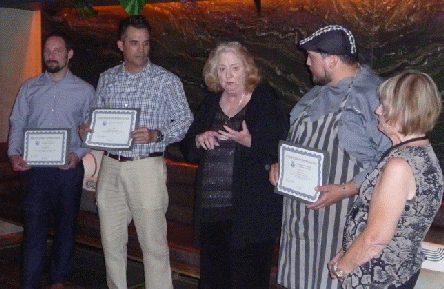 Mr. Lyons Steakhouse was the place where we learned more about the craft of matching foods with wine. Here Chef Eddie Moran and Sommelier Jessie Casanova matched three original appetizers with chosen vintages. Course one was radishes & blue cheese with 2017 Marco Felluga Mongris Pinot Grigio. Second course was Black Cod Escabeche paired with 2016 La Follette Los Pimeros Pinot Noir, with third course Berkshire Pork Belly paired with 2016 Margerum M5Red Blend.
Mr. Lyons Steakhouse opened in 2015 with a new look and menu for Lyons English Grill while retaining its Hollywood glamour image and ambiance. It is located at 233 E Palm Canyon Drive, Palm Springs, Ca.
Our lunch at Spencer's was a delight seated in what Palm Springs considers the "best patio dining". The restaurant is located at the Palm Springs Tennis Club nestled against the mountains. There are exceeding large menus for breakfast, lunch and dinner. The restaurant consistently earns four stars. It is located at 701 West Baristo Road, Palm Springs, Ca. Tele. 760327-3446. web www.spencersrestaurant.com.
Back to Table of Contents..
Last Update:5/9/19
&copy 2019 Joe Hilbers All Rights Reserved.
Graphic Design by Impact Graphics