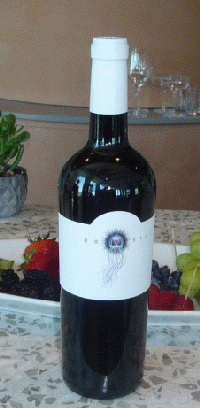 "Los Angeles-- Immortal Estate Slope offers new levels for Cabernet Sauvignon"
" "
by The Editor
What does it take to make a single bottle of California wine worth $100? First of course is the quality of the vintage in the bottle. But also there should be a story of where the vineyard is located and third the people responsible for its creation.
Which brings us to our recent tasting of Immortal Estate Slope 2014 Sonoma Cabernet Sauvignon. There was no question that the wine we tasted was superior, rating high points in every category including aroma, flavors and finish. But we wanted to know more.
The vineyard is located on the flanks of the Mayacamas Mountains with the vines planted on hillsides with a slant of 50 degrees. First planted in 1990 by Timothy Milos and the late Lynn Hofacket they soon discovered that the vines were producing unique vintages which often received national attention under the name Hidden Ridge.
Then Tim Martin, already a vintner in Sonoma and Napa appellations with Tusk Estate, became co-owner with Randy Nichols and Timothy Milos as winemaker. So Immortal Estate was created as the new name for the Mayacamas Mountain Vineyard and its wines.
Martin believes that the already outstanding wines produced from these mountain vineyards will continue and even expand the quality of the Cabernet Sauvignons to new luxurious levels.
After tasting the Slope 2014 Cabernet we think Tim Martin has a running start on these new luxurious Cabernet Sauvignons.
Back to Table of Contents..
Last Update:5/17/19
&copy 2019 Joe Hilbers All Rights Reserved.
Graphic Design by Impact Graphics