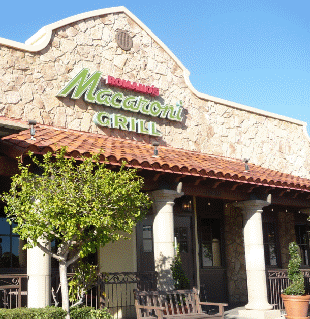 "Northridge--Macaroni Grill now featuring 'The Catch', Italian fish classics "
by Joe Hilbers
Where do you find some one that does not like pizza and pasta? Truly the Italians have it when it comes to a cuisine that stays consistently popular. This is something that Romano's Macaroni Grill learned some thirty years ago. The message on the menu says it all.
"From our Kitchen to Yours--we believe that a true Italian kitchen requires three things: An honest appreciation for tradition, a healthy slice of generosity and a pantry full of incredibly fresh ingredients. This is why we share with our customers the same legendary recipes at our restaurants that one enjoys at home".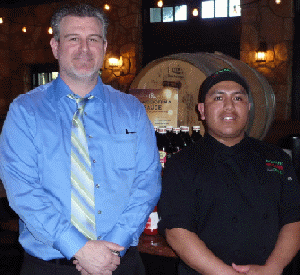 But besides the long list of Chef's Favorites there are always some new exciting additions. It was to this end that we recently journeyed to the Macaroni Grill located at Northridge in the heart of the San Fernando Valley. Here were some new exciting additions entitled Fresh Catch which included an Italian Fish Fry as well as a Grilled Fish Feast.
With my dining partner we each selected one of the Catch. I chose the Italian Fish Fry which included Peroni beer battered sole, shrimp plus calamari served with rosemary citrus russet potatoes and three original house made dipping sauces. My dining partner selected the Grilled Fish Feast with mahi-mahi filet, shrimp plus Scallop spiedini served with a choice of rosemary citrus russet potatoes or broccolini.
Each arrived with a special presentation being served on a large paddle shaped board heaped with all the enticing goodies. With such a large selection on our table it gave us the opportunity to taste both our selected catch as well as the other. My dining partner was hard placed to keep me away from her shrimp + scallop spiedini and the excellently prepared mahi-mahi. But proving very deft with her fork was soon on the attack to my calamari and beer battere d sole.
Noted on the menu was the Perfect Pairings which selected three wines which can be ordered in both five oz. or 8 oz. sizes. The varietals are cabernet sauvignon, pinot noir or pinot grigio. With our Catch we chose the Terato Pinot Grigio. The Northridge restaurant has a full service cocktail lounge and a well chosen wine list.
The regular menu is huge with individual selections. There are thirteen pastas listed, and the menu lists in order antipasti, salads, soups and brick oven pizzas. We studied the Chef's Favorites list carefully noting two of our favorites, Osso Bucco and the Braised Lamp Shank, ensuring that we will soon be back to Macaroni Grill.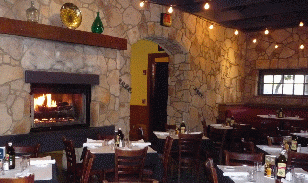 Alas we also were handed the Dolce list of desserts which offered too many tempting items such as Romano's Cannoli or Decadent Chocolate Cake or Sticky Toffee Pudding Cake. But then there was Tiramisu and this combination of mascarpone, rum-soaked ladyfingers, espresso and cocoa was what we selected. We might as well just admit it, if Tiramisu is on the menu we order it. In the San Fernando Valley Romano's Macaroni Grill is located at 19400 Plummer Street, Northridge, Ca. 91324, Tele. 818 725-2620, web, www.macaronigrill.com. Open 11 a.m. to 11 p.m. daily, Sunday Brunch from 11 a.m...
Back to Table of Contents..
Last Update:3/20/19\
&copy 2019 Joe Hilbers All Rights Reserved.
Graphic Design by Impact Graphics