"Los Angeles--LAX's Flight Path Museum is dedicated to those who love aviation and adventure"
By The Editor.
The idea of flight captured human imagination long before that first machine left the ground. Then the early beginnings of commercial aviation which offered excitement and adventure with the concept of faster transportation.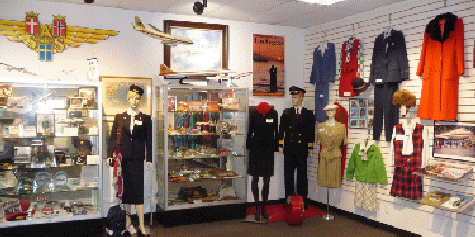 All of this is well spelled out at the Flight Path Museum located at the Los Angeles International Airport. An invitation to a special event first brought our attention to this museum which offers exhibitions of aviation history and memorabilia as well as guided tours and educational programs.
The event was a salute to the significant contributions of Asia Pacific airlines to global aviation. This included an exhibit that showed vintage flight attendant and pilot uniforms and artifacts from Air Bali, Asiana, Cathay Pacific Airlines, Korean Air, Malaysian Airlines and Singapore Airlines. This exhibition then became available for public viewing at the Museum..
On our visit we met Agnes Huff, president, who acted as our guide and explained what the Flight Path Museum and Learning Center has to offer. There are exhibits listing the many airlines that have existed both in the present and the past. Uniforms of pilots and flight attendants from around the world are on display.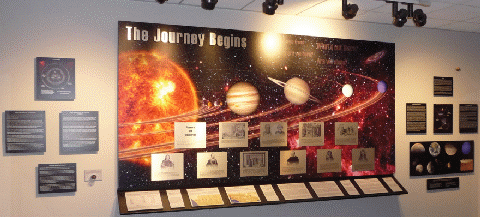 One room is devoted to Aerospace and the dominate role played in Southern California on its development and future.
Other rooms include an Aviation research library and one with model planes from almost every airline that has ever existed. There is much emphasis as a learning center with Flyers Programs featuring flight simulators, Navigation and aircraft ground and air operations. These are offered to participants 12 years and older. Some of these courses are taught by retired airline pilots. These courses are held on five consecutive Saturdays with a $25 registration fee.
Besides its exhibits the Museum enjoys a wonderful location at the LAX Imperial Terminal and from its windows airplanes can be seen taxing, taking off and landing at the world's second busiest airport. Sometimes an older plane is parked adjacent and available for actual tours from the Museum.

The Flight Path Museum is located at 6661 W. Imperial Hwy, Los Angeles. There is free admission and free parking. It is open Tuesday thru Saturday from 10 a.m. to 3 p.m. Telephone 424 646-7284. Learn more on the web at www.flightpathmuseum.com.
Back to Table of Contents

Last Update:5/29/19
&copy 2019 Joe Hilbers All Rights Reserved.
Graphic Design by Impact Graphics