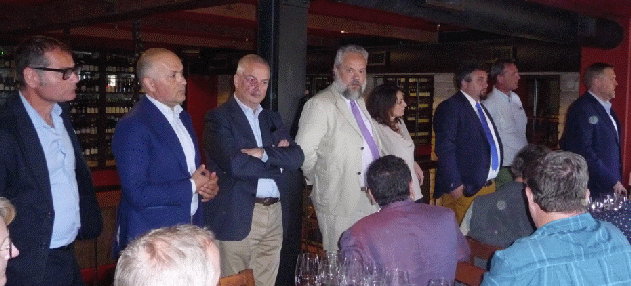 "Los Angeles-- Classico Chianti wines continue to please with that wondrous Sangiovese grape"
By The Editor
The Chianti Classico Experience was the name for the recent seminar we attended in Los Angeles. Conducted by Jeff Porter it also featured representatives of the eight wines we tasted. All the wines were of the 2016 vintage but from different geographic areas.
And yes the black roster, that has been the symbol of Chianti Classico since 1716, was also present. It is true that when many Americans think of Italian wine the association is with Chianti. There are many reasons for this association.
Sangiovese is the basic grape varietal for all Chianti Classico with its roster trademark. It produces a wine with a ruby red color with intense aroma and a pleasant, gentle taste and mellow tannins. The fact that Chianti can be consumed while still reasonably young adds to its attraction. Now however many producers are adding more age to their wines.
For the 21st century producers of DOCG Chianti Classico made some major changes both in where designated vineyards are located but also the blend. For Chianti Classico wines Sangiovese must include eighty per cent of any blend with only a few other local red varietals permitted. The Consorzio Vino Chianti was first established in 1927 by producers in four provinces--Florence, Pistoia, Arezzo and Siena. The DOCG was recognized in 1984.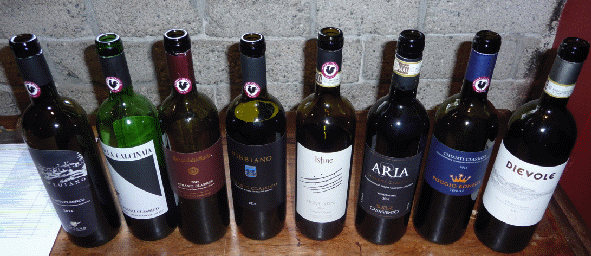 The eight wines we tasted were from all the geographic regions, all of 2016 vintage with two years barrel aging and ranged in the 14 per cent alcohol level. One producer showed two wines, each from different geographic areas and terroirs. The result was that while similar in excellent quality other characteristics were much different.
The Los Angeles event took place at the Republique Restaurant and was well attended by local restaurateurs, sommeliers and retailers. Following the seminar Italian appetizers were served while offering the opportunity to taste the wines of each producer.
Presently there are 560 members of Chianti Classico producing 35 million bottles annually with exports to some 100 countries.
Back to Table of Contents..
Last Update:5/29/19
&copy 2019Joe Hilbers All Rights Reserved.
Graphic Design by Impact Graphics