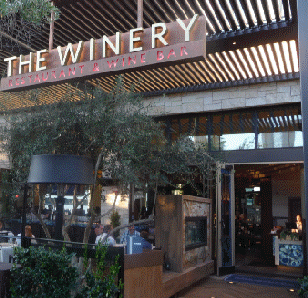 "La Jolla--The Winery Restaurant and Wine Bar shows the best of 'a wine country experience'" By Ronnie Greenberg
.
Known for showcasing the best of a "wine country" experience, with unique and refreshing food and wine pairing that create a well rounded menu is the exemplary addition to La Jolla's culinary scene, The Winery Restaurant & Wine Bar. <>P>Long known in Tustin and Newport Beach for showcasing the best of wine country with unique and refreshing food and wine pairings that create a well rounded menu with something to satisfy every diner.
Three men with long culinary backgrounds have once again made this happen. There is JC Chow, General Manager who you will find as often as not acting as Host. There is William Lewis, Sommelier and Host who is responsible for over 650 wines from 13 different countries and five continents. Executive Chef Yvon Goetz originally from the epicenter of cuisine, France, and who along with his talented team makes each meal meticulously prepared with unrivaled passion.
Setting the tone for a rare dining experience the design and decor has the California casual ambiance and flair with both indoor and patio dining. The tables are set with fine linen and topped with candle light at evenings for a supper vibe. The handsome extensive bar offers barstools to sit and sip a cocktail, martini, or glass of wine.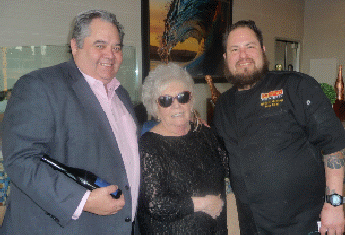 There is a listing of Sommeliers Proposals, suggested wines with entrees on each day's menu. Wines are changed by the season, with additional light wines added for summer. The menu is a perfect match for a wine program that features a list with 650 selections, and wine from their climate-controlled cellar which can house up to 7,500 bottles. There are wine flights and craft beers.
Adding to the pleasure of your dining experience is the wait staff all who are friendly, helpful and skillful.
The evening we were there we were greeted by Greg Omotoy, G.M. and had our sumptuous food presentation prepared by Sous Chef Michael Montaya
Each night the menu is set up for many options including: Ocean Centerpiece which includes The Winery Seafood Tower, a combination of lobster tail, king crab legs, jumbo shrimp, oysters and Ahi tuna spoons. Then there is a selection of fresh seasonal oysters, mignonette & peppered vodka cocktail sauce; Maryland Jumbo lump crab cocktail; Chilled Maine lobster; Hawaiian Ahi Tuna Poke; Chilled jumbo shrimp cocktail; Alaskan King Crab leg and Salmon.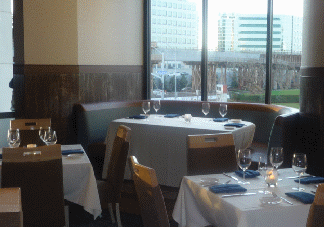 To share includes YG's Alsatian pizza, applewood smoked bacon, creme fraiche, guyere cheese and white onion: Crispy Kurobuta pork belly lollipops: Fresh Greens highlights the Winery House Salad with organic baby greens, candied walnuts, Roquefort cheese, red grapes, red onions, tomatoes, apples & Dijon mustard vinaigrette or shaved brussel sprouts spinach salad with applewood smoked bacon, almonds, hard boiled eggs, Manchego cheese & pomegranate mustard vinaigrette.
Land gives the center stage to a slow cooked braised Angus beef short rib with Prosciutto wrapped asparagus, carrot infused pearl couscous & Zinfandel reduction: Duck a citrus marinated sliced breast, duck confit, Rosemary gnocchi, wilted pea tendrils and wild bing cherry reductions or The Winery "grand cru" Burger.
Take a walk on the wild side features the Chef's Nightly Special of fresh wild game or fowl. This includes organic New Zealand venison, elk, all natural buffalo, Louisiana alligator, rabbit, pheasant, quail, squab or partridge.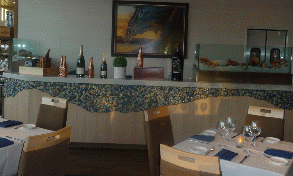 Accolades include the AAA Five Diamond Award; and "Restaurant of the Year," numerous times.
The Winery Restaurant & Wine Bar is Located at: Westfield UTV, near the NEW Valet Parking on La Jolla Village Drive and Genesee, 4301 La Jolla Village Drive, Suite 2040. San Diego 92122,Phone:858-230-7404 www.thewinerylajolla.com
Hours: Lunch: Monday to Friday 11 a.m. to 3 p.m-Saturday and Sunday 11:30-4 p.m. Dinner: ;Monday through Thursday: 4:30 p.m. to 10 p.m.- Friday, 4:30 to 11 p.m.-Saturday, 4 p.m. to 11 p.m.- Sunday, 4 p.m. to 9 p.m.-Happy Hour;-Sunday to Friday 3 p.m. to 6:30 p.m.
Other Locations:The Winery Restaurant & Wine Bar in Tustin at2674 Park Avenue, Phone: (714) 258-7600 www.thewinerytustin.com and The Winery Restaurant & Wine Bar in Newport Beach at 3131 West Coast Highway, Phone (949) 999-6622 www.thewinerynewportbeach.com
Back to Table of Contents

Last Update:3/23/19
&copy 2019 Joe Hilbers All Rights Reserved.
Graphic Design by Impact Graphics