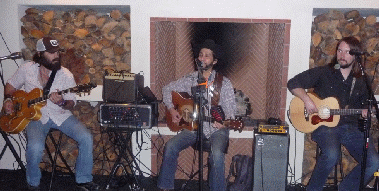 "Los Angeles-- Farmhouse Restaurant shows rustic decor and downhome cuisine
.
By The Editor
From the moment we first entered Farmhouse Restaurant we knew that this was our kind of place. Traffic on the west side of Los Angeles appears to get busier and more of it each passing day. So it really matters now to know that parking will be available and a second mortgage on the homestead will not be needed to pay for it.
At Farmhouse the free valet parking at the adjacent Beverly Center means you enter relaxed and ready to enjoy the serene decor that matches perfectly the many choices available either at the bar and lounge, the informal counter or a table for some outstanding dining. All with a charming rustic decor.
When the menu at Farmhouse proclaims that everything is from farm to table this is fact not fiction. Nathan Peitso, who opened Farmhouse one year ago, calls himself Executive Farmer since he is from the second generation of Kenter Canyon Farms.
So when Nathen decided that a one year anniversary celebration was to take place we were back once again. This time for Spring Menu Stations & Bites, Specialty Cocktails and the entertainment of a live country band.
Some of the favorites were included like the beef short ribs and Cacco e Pepe, spiced spaghetti. Also the classic pizzas which are a house specialty. These included the Margarita, Fennel & Sausage, Pepperoni and Mushroom.
The regular menu offers seafoods like salmon, prawns and scallops, and a beef favorite is the Tri tip steak.
The Farmhouse Restaurant is located at 8509 W. 3rd ?Street in Los Angeles. It is open daily from 11 a.m. and on weekends there is a buffet brunch. Telephone 310 818 4925.
Back to Table of Contents..
Last Update:4/5/19
&copy 2019 Hilbers All Rights Reserved.
Graphic Design by Impact Graphics