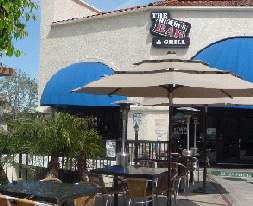 "Tarzana--Hummus Bar & Grill pleases with its Middle Eastern and Israeli cuisine
" "
by The Editor
The age old question for the restaurant writer is "why did it take so long to visit this restaurant?" It was asked again when we arrived at Hummus Bar & Grill located in Tarzana only a short distance from where we live.
Once inside we knew right away that this was an exceptionally well operated restaurant with an excellent staff and an exciting Middle Eastern menu. Mediterranean salads are a house specialty here and we soon had 20 small portions of each laid before us on the table just big enough to accommodate all of them.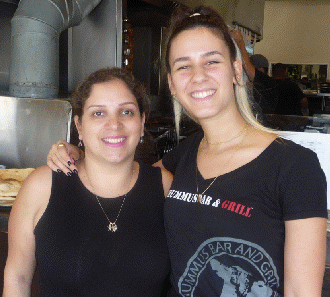 They included Hummus, Chopped Liver, Egg Salad, Babaganush, Tabuli, Greek Eggplant, Moroccan Beet, Corn Salad, Spicy Fennel Salad, Warm Mushrooms and Garbanzo Beans. We were especially interested in the Greek Eggplant which was very similar to the Companada we make at home.
With this two Pita breads are served, one a homemade Laffa with Zaatar. The menu also shows a large selection of skewer served meats including chicken thigh, liver, breast and heart, a middle Eastern Kabab as well as lamb and beef. We had to try the freshly cooked Shawarma which can be served with either chicken or fish as well as the skewerd chicken livers.
There is a Kosher menu "Hamotzie Lechem Meen Haaretz" that includes chicken thigh steak, Rib Eye Steak, Angus burger and Pita Arayes. Manager Reut told us the restaurant has been in operation for twelve years with two dining rooms and an exhibition kitchen. Beverages include beer and wine with some Israel vintages included. The restaurant also has a large take out business with three ways to order delivery.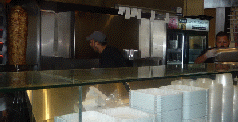 Hummus Bar & Grill is located at 18743 Ventura Blvd., Tarzana with free off street parking. Hours are Sunday thru Friday 11 a.m. to 11 p.m., Saturday 11 a.m. till midnight. Delivery hours are 11 a.m. to 11 p.m. Telephone 818 344-6606, web www.hummusbargrill.com, I Phone App Hummus Bar Chow Now.
Back to Table of Contents..
Last Update:4/13/19
&copy 2019 Joe Hilbers All Rights Reserved.
Graphic Design by Impact Graphics