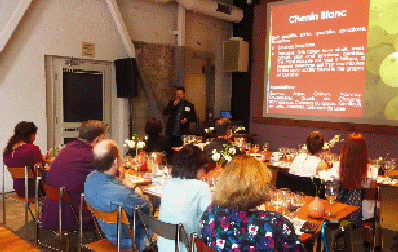 "Los Angeles--France's Loire Valley wines were on show in the Arts District"
by the Editor
The Loire Valley is often described as the heart of France, both by geography and heritage. Its wines enjoy a fame of their own, principally for the quality of the white wines produced in its many appellations. But it also produces some outstanding red wines and is one of the original places for Malbec, Gamay and Cabernet Franc.
For its famed white wines think Chenin Blanc, Sauvignon Blanc and Melon de Bourgogne.
We had the opportunity to learn more about these Loire Valley wines when we attended the recent tasting entitled "Spring to Loire! The Loire Valley Wines' Day" presented in Los Angeles.
At this event importers presented a long list of both white and red wines of the region. It was also the opportunity to attend a seminar on the "Terroir from the Loire Valley."
One of our goals at the tasting was try white wines from each of the Loire appellations. We tasted Melon de Bourgogne from the Muscadet Sevre et Maine region. Here we also tasted a one hundred per cent Chenin Blanc which is so identified with the Saumur region.
Moving on we tried a Sauvignon Blanc from the Sancere appellation. At this point we started on the red wines, a Cabernet Franc from the Chinon region.
The Rose wine we tasted was made from Grolleau and Gamay grapes and the Rose d''Anjou region. We tasted an interesting red blend of Cabernet Franc, Pinot Noir and Malbec, called Cot in Loire. It was from the Touraine appellation.
The seminar was conducted by Matthew Kaner of Bar Covell, who we already knew from past wine events. Once again his presentation was outstanding.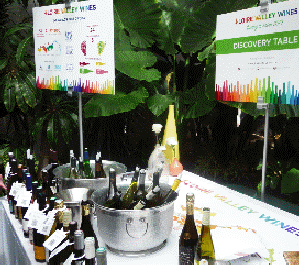 Here we tasted six wines, four white and two red. Both red wines were Cabernet Franc, one from the Anjou appellation, 2016 Domaine Leduc Frouin and the other from Chinon, 2016 Marie de Beauregard. All four white wines were Sauvignon Blanc, 2017 Chateau de Mongueret from Touraine and the other from the Val de Loire, 2018 Attitude by Pascl Jolivet. The two from Sancerre were 2017 Vincent Grall and 2017 La Guiberte by Alain Gueneau.
It was our first visit to The Grass Room where the tasting took place. Located in the Arts District of Los Angeles it proved an ideal location and we were impressed with the appetizers that were served with the outstanding wines.
Back to Table of Contents..
Last Update:4/12/19
&copy 2019 Joe Hilbers All Rights Reserved.
Graphic Design by Impact Graphics