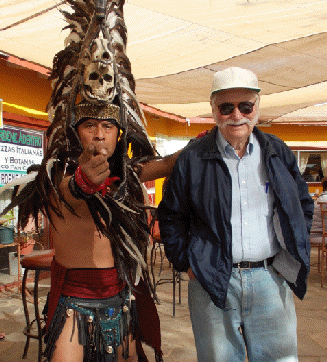 "Mexico-- Baja's Valle De Guadalupe offers great wine touring"

by Joe Hilbers
Visits to Valle de Guadalupe are always special since it continues to grow in reputation for its vineyards and wineries which are still expanding. The Valley has a unique beauty surrounded by mountains but its floor covered with vineyards and olive groves. One could easily believe he was in Tuscany. And in this Valley we always discover something new.
We had heard that a new museum had been established called Museo de la y el Vino which tells the history of Viniculture in 'Baja California. Unfortunately time was too short on this trip to tour the museum but we did admire the stunning architecture of the building located at Hacendas Las Animas at the entrance to the Valley. The Museum is open Tuesday through Sunday from 9 to 5 p.m. and is located 30 miles north of Ensenada. The Museum has the potential to become a major Ensenada tourist attraction. At present all the exhibits written word is in Spanish so if you do not read that language you will need a guide for learning the fascinating history of Baja wines.
First vines arrived with the Spanish priests as they established their missions. Then in the late 19th century Mexico granted immigration to a Russian ethnic group that had to flee their country during a revolution. They settled in Baja California and soon discovered the great potential for growing grapes and producing wines there. The first vineyards and winery in the modern era was at Santo Tomas, south of Ensenada.
Then the Russian immigrants decided Valle de Guadalupe offered the perfect soil and climate for vineyards. From those beginnings the Valley has become Mexico's premiere wine producing area. The expansion of vineyards and wineries continues with almost all the wines being for Mexico's domestic market.
The terroir of Valle de Guadalupe is very similar to that of Temecula Valley wine country a couple of hundred wines north. Both have warm summer climate but with the influence of the Pacific Ocean dropping temperatures at night. This summer ocean cooling is the result of upwelling of cold ocean currents as they reach the continental shelf. This generates winds that spring up generally in late afternoon and evening. At Temecula this occurs through the Rainbow Gap, a break in the coastal mountains. At Valle de Guadalupe this break in the range occurs just north of Ensenada.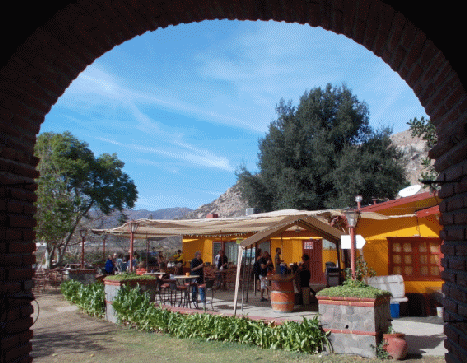 Also new was our discovery of La Casa de Dona Lope Winery. This is much more than just a winery and tasting room. There is a unique restaurant offering house appetizers like Botana Grande, wonderful fresh baked breads with cheese, chips, many flavors of dips, olives and Taquitos. Pizzas that have earned a wide reputation for quality and entrees like artisan homemade pastas as well as Carnes Sandwiches.
All this with Son, Daniel Lupe's wines which are all organic to be enjoyed on a delightful patio en fresco. This was old Mexico with its distinctive special ambiance and charm. Here you were a long way from bustling Napa Valley.
We had the opportunity to meet and chat with Owner Dona Lupe who started it in 1968. She is charming and takes special delight in welcoming and talking with as many of her guests as possible.
Besides the distinctive restaurant fare and wines there is the store with Lupe's own extra virgin olive oil and a huge selection of home made jams and jellies. When I was growing up in San Francisco we had a quince tree in our garden and I always had my Mother's quince jam. In these times it is hard to find and when I do discover a jar I buy it. Once this was in Ohio's Amish country and now Dona Lope personally sold me a Quince-Pineapple jam.
Daniel makes a selection of wines. We tasted his Cabernet Sauvignon, Merlot and Garnacha. Garnacha is a Spanish varietal popular in the Rioja region of Spain. It is popular with Baja growers but rare in California Norte. Other reds Daniel produces include Nebbiolo, Barbera and Zinfandel. Whites include chardonnay blanc and Garnacha Blanc.
La Casa de Dona Lope is open Monday thru Sunday from 9 a.m. to 6 p.m.. For more information call from the U.S. at 646 155-2323.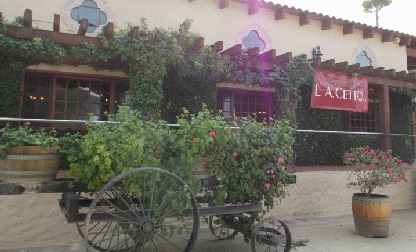 L A Cetto Winery at Valle de Guadalupe is a legend in its own time. Founder Don Angelo Cetto arrived from Italy in the 1920s, recognized the Valley's great potential for vines and wines and opened his winery in 1928. Then his son, Don Luis Augusta Cetto continued expansion and opened a new winery in 1975. Now in the family's third generation Luis Alberto Cetto is at the helm. On my first visit Luis Alberto had just joined the firm after university and he was my guide. First we toured their sparkling wine cellars in Tijuana, then the winery in Guadalupe. Also at that time their olive tree groves were producing fruit and we looked at the new, shining steel machinery that would produce the oil. It had just arrived from Italy. Since then Cetto olive oil has achieved distinction of its own for quality and winning international awards.
This was our fourth visit to Cetto. We tasted some excellent wines starting with their sparkling Champbrule made from Chardonnay and Sauviginon Blanc. Also a 2012 Chardonnay and 2011 Cabernet Sauvignon to which we gave high points. A one time only vintage, 2008 Don Luis Concordia, was an exciting experience. Now Cetto produces one million cases of wine each year with export markets in many countries.
This trip; to Valle de Guadalupe was a shore excursion on my Carnival Imagination cruise. Like just about everything on cruises the experience was effortless for the guest. The bus was comfortable, Guide Melanie was knowledgeable and often amusing. The climate was perfect, still part of Southern California's remarkable summer in January. Unusual was a performance of a Atzec warrior doing homage to his gods. This took place at La Casa de Dona Lope and added much to make the trip memorable.
Back to Table of Contents..
Last Update:2/9/14
&copy 2014 Joe Hilbers All Rights Reserved.
Graphic Design by Impact Graphics