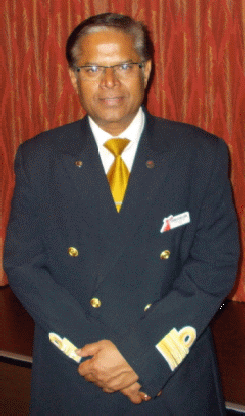 "Long Beach--A professionasl, friendly crew is key to a guest's experience aboard a cruise ship"

By The Editor
.
What makes a cruise special for most people is the way they are treated while aboard ship. And this treatment of course, centers on the members of the ship's crew guests are likely to meet and be in contact.
Rarely ashore in this age are people recognized and greeted as polite and courteous as aboard a cruise ship. Ship's guests are always met with a friendly smile, and after just one day are greeted with your name by the cabin steward. This is all possible thanks to the training crew members receive and as a result become true professional at whatever their assignment.
And this professional status starts at the top. Aboard Carnival Imagination we had the opportunity to meet and talk at length with Imagination's Hotel Director, Guna Chellam.
Mr. Chellam has been with Carnival 23 years and served aboard 18 of Carnival's 25 ships. He is a graduate of a Hospitality Training School in his native India where all aspects of a hotel's operation are taught, including kitchen and dining room operations. After joining Carnival his academic training continued with attendance at Miami and Austria hospitality schools with emphasis on leadership training.
The extent of Mr. Chellam's responsibilities on Imagination are large including kitchen, dining rooms, show room, bars and casino, as well as spa, gift shops, entertainment and ship sponsored shore excursions. . Carnival Imagination has 1100 cabins, a crew of 867 and with 2300 guests aboard.
Change is constant aboard ship both with crew, guest services and entertainment. Mr. Chellam, as one example, told of a completely new menu to be introduced entitled American Feast. Also Carnival is exploring the concept of bringing local well known musical groups aboard its ships on the short cruises which have became increasingly popular.
For crew members education continues aboard ship. As an example a number of crew members joined Imagination in Long Beach and the following morning were attending a class as an introduction to their new ship. Most crew members sign contracts for six months, then have two months off before returning but not necessarily to the same ship.
Hotel Director Guna Chellam is one of the Imagination Team that includes Captain Candeloro Donato, Chief Engineer Giuseppe Perasole and Cruise Director Skip Lyons.
Mr. Chellam works on Imagination for four months then returns to his family in India for two months. His wife was an engineer before marriage. His son is training to become a film director while his daughter is still completing a medical degree at university. The four officers making up the Imagination team generally remain together for three years on the same ship.
Imagination will remain in Southern California at Long Beach for the summer with three and four day cruises.
Carnival's concept of short cruises has been very successful since they are attractive to the local population, at every Ship's home port. Short cruises are more affordable and more people can get away for three or four days but the cruise experience remains the same as on longer voyages.
Back to Table of Contents..
Last Update:2/7/14
&copy 2014 Joe Hilbers All Rights Reserved.
Graphic Design by Impact Graphics