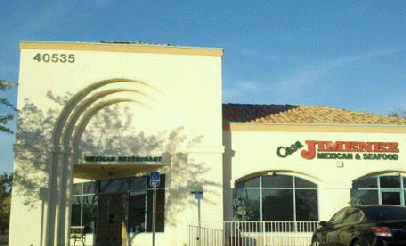 Murrieta--Good restaurants, like gold, are where you find them"
.. By Jeri Wilson
Editor's Note: Jeri Wilson is a founding member of the Southern California Restaurant Writers and currently writes reviews for Oasis Magazine. We thought her story on Casa Jimenez should be in Vittles
I''m so mad at myself! For years I have been passing by this restaurant and (in mind dismissing it as ..."just another Mexican restaurant". Wrong! What a dummy..do you realize how many oysters I have missed over those years?
Oysters at $14.95 for a bakers dozen. In case you didn't know, that's a helluva price. And I love raw oysters. And these were good, fresh...I could go on and on.
Yes, it is a Mexican restaurant and this gringo has recently learned one thing new about these restaurants, just. From one of my helpful ladies, I learned about frijoles de la olla beans from the pot. Her husband, born in Mexico City, has to go to a certain restaurant in Hemet (where they live) to get his fix of beans every so often. You do not find de la olla just anywhere. Of course, after I filled myself with oysters , I headed for the beans. They were good, the liquid was almost clear...no sign of grease or fat, no onions or garlic to be seen...I'm puzzled and will find out what or how these beans were prepared. One thing for sure, I liked them better than the refried beans that come on so many combo plates.
Let me start at square one, lest I mislead you. Square one: beware of the hot salsa that comes with the wonderful warm chips! Hotter than..,.instead, ask your server for the mild stuff and you'll get a little crock filled with chopped tomato, onion, cilantro, etc. Square two:"if there is a chile on your plate...try it carefully...I tried to bite into one dropped it like a hot potato, and drained my Margarita in one frantic gulp.
The menu at Casa Jimenez starts with breakfast with offerings Number one thru 9, from $4.95 to $9.95. Lunch, numbers 10 thru 19 are priced from $7.50. Then we come to the specialties, numbers 21 thru 85. Prices here are all over the place; the top is the seafood platter that comes small, medium or large with large being $55. There are over 20 items at $9.95 and even more under $14. The last page has a kid's menu and all the a la carte stuff. Also offered is an all you can eat selection for $10.95. There are seven soups and menudo on the weekends. I don't know what you would want that you can't find there.
I ordered the Jimenez special because it had the special beans as well as that chile. It featured carne asada, salad, guacamole and rice. My friend had the burrito, enchilada, chile relieno and couldn't begin to eat it all,. You wouldn't believe the amount of pork in that burrito.
The people we talked to while waiting to be seated were long-time customers and raved to us about the place. They were right!
Casa Jimenez is located at 40535 California Oaks, Murrieta. For more information call 951 677-4579.
Back to Table of Contents..

Last Update:2/22/14
&copy 2014 Joe Hilbers All Rights Reserved.
Graphic Design by Impact Graphics