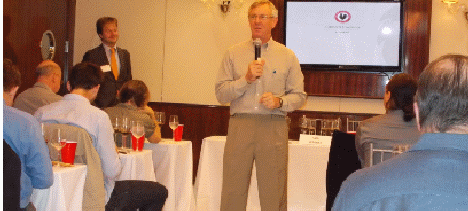 Los Angeles--The Black Roster still reigns for Chianti Classico
.. By The Editor
According to legend the black roster, that symbol of Chianti Classico, has been around since 1716. Anyway it makes for a good story. And it is true that when many people think of Italian wine the association is with chianti.
There are many good reasons for this association. Sangiovese is the basic grape varietal for all Chianti including Chianti Classico with its roster trademark. It produces a wine with a ruby red color with intense aroma and a pleasant, gentle taste with present but mellow tannins. The fact that Chianti can be consumed while still reasonably young adds to it attraction. However in some areas wines with more age are now being produced.
In the year 2000 producers of DOCG Chianti Classico made some major changes both in where designated vineyards were located but also the blend. For Chianti Classico wines Sangiovese must include eighty per cent of any blend with only a few other red varietals permitted. White wines are no longer allowed in the blend. Presently there are 560 members of Chianti Classico producing 35 million bottles annually with exports to some 50 countries.
All of this and much more was learned by this Writer when I attended a seminar sponsored by the Simply Italian Great Wines US tour held at Mr. C Beverly Hills. The seminar was entitled "Chianti Classico Revolution: The Black Rooster Crows at the Dawn of a New Age."
The seminar was conducted by Paul Wagner, president of Balzac Communication & Marketing located in Napa.
The Consorzio Vino Chianti was first established in 1927 by producers in four provinces--Florence, Pistoia, Arezzo and Siena. The DOCG was recognized in 1984. While Chianti was recognized as a wine for centuries it did not receive an official designation until 1932.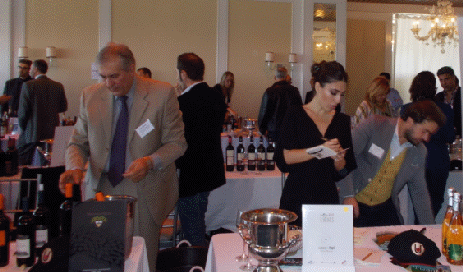 We tasted six of these wines, four with Riserva added to their recognition. All were ranged in alcohol from 13 to 14 per cent alcohol and all had anywhere from 15 months to over two years in barrel aging. The vintages ranged from 2007 and 2009.
Following the seminar a tasting of many Italian wines took place in the top floor ballroom of the Mr. C Hotel with a large and appreciative audience.
Back to Table of Contents..

Last Update:12/21/13
&copy 2013 Joe Hilbers All Rights Reserved.
Graphic Design by Impact Graphics