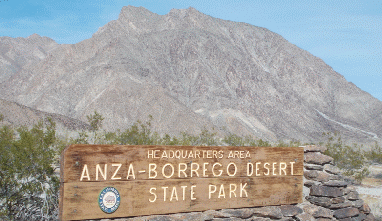 Anza Borrega Desert State Park--This is a great place for winter adventures .
.. By Joe Hilbers
In Southern California the deserts become winter resorts and playgrounds. The calendar told us it was time to enjoy, once again, the lonely byways of Anza Borrega Desert State Park. This is the second largest State Park in the U.S. and offers countless places to enjoy its vast, lonely but most interesting landscapes. It had been decades since our last visit so that everything appeared fresh and new.
We entered the Park from the south on S2, a San Diego County road well paved. This road starts at Ocotillo from Interstate 8. With a very early start we had S2 to ourselves and so moved at slow speed to enjoy the vistas and perhaps view some wildlife as well. In this we were not disappointed. A desert fox moved among the cactus close to the road and we stopped and watched him as he inquisitively surveyed the ground around him. It was the first time we had ever seen this animal in his natural setting.
Our luck continued for only a few miles further along we sighted three coyotes. They appeared to be a family, a mother and two almost grown pups. They had crossed the highway some distance in front of our car. Again we stopped and watched until they disappeared into the mesquite bushes lining the road.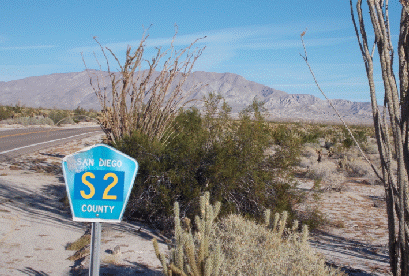 We also stopped often to take photos and to read signs about tracks and trails that branched away from S2. They often had intriguing names like Well of Eight Echoes, Yaqui Well, Surprise Canyon and Box Canyon.
At Box Canyon there was an interesting metal sign that explained that the Mormon Battalion had been the first to build a trail through the canyon on its epic march of 2000 miles from Council Bluffs to San Diego in 1846-47. And that later it was used by the Butterfield Stage which offered passenger service from St. Louis to San Diego and San Francisco. This was most interesting to us since we had just visited the Mormon Battalion Historic Site located in Old Town San Diego.
Old historic trails have been kept intact in the Park where elsewhere development has erased them. The Juan Bautista de Anza Historic Trail starts in Mexico and ends at the Presidio in San Francisco tracing the route De Anza took when leading two hundred people in 1774-76. Later this became known as the Great Southern Overland Trail
On other excursions we had traced Juan de Anza's route including one short trail that follows the Los Angeles River in one of the city's oldest neighborhoods. And another that follows the railraod track leading to Guadalupe in central California.
We left S2 for S3 and was soon at Borrego Springs where we found the Park Visitors Center and spent much time there. There is a garden that includes all the varieties of cactus and other shrubbery that is indigenous to the region. We also had a long discussion with Joe Nickelson and William Barker, both long time volunteers with the State Park. Here we also took a copy of a booklet entitled Historic Trails Edition, issued free by the Visitors Center. It is full of interesting information about places to see, campgrounds, self guided trails and much more.
This was a short visit to the Park but it had been so pleasant that we vowed to return for a longer stay before winter is over. As we drove on rhe road leaving the Park we saw a roadrunner cross in front of us at a distance of about 40 yards. We stopped the car and waited to see if Wily Coyote was in pursuit but no that did not happen. The roadrunner went peacfully on his way, we thought looking slightly bored.
Back to Table of Contents..

Last Update:2/18/14
&copy 2014 Joe Hilbers All Rights Reserved.
Graphic Design by Impact Graphics