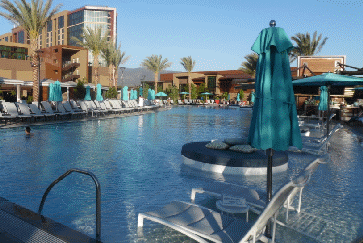 "Temecula--Wine and food mix well on the De Portola Wine Trail"

by Joe Hilbers
Once again we were on a visit to Temecula to explore its wine country and again it started with check in at Pechanga Resort Casino. With the completion of the North Tower there are one thousand sixty rooms making it the largest Casino in California.
One of the things we immediately noticed was how Pechanga has evolved into a family oriented Resort. Parents with small children were everywhere and the pool and outdoor areas are especially popular for all ages.
Our room on the fourth floor included a private cabana outside with two club styled chairs and a table perfect for relaxation at any time, day or night.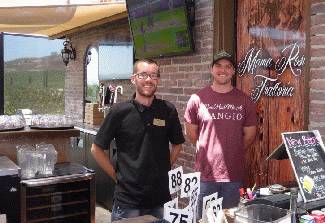 However we were soon on our way for a full day of exploring what was new on Temecula's De Portola Wine Trail. What we discovered was that it should now be called De Portola Wine and Food Trail.
This was our first visit to Robert Renzoni Vineyards and their extensive tasting room and restaurant. It commands a hilltop with striking views of surrounding vineyards. Here we met Phillip Randall, general manager, who acting as our host led us through a tasting of some most interesting wines, many from Italian varietals. These included Sangiovese, Barbara and Montepulciano which has such a commanding presence in northern Italy.
The family has a history with the beverage business extending over 100 years, first as an importer and later as a wholesale liquor dealer serving upper New York State. Then the family decided to move to California and purchased the scenic property on De Portola Road.
So it was that we sat at Mama Rosa's Trattoria, on the outdoor patio, to enjoy our outstanding pizza while viewing the vineyards that were to be seen in every direction. This Trattoria features a full menu of Italian specialties to accompany the vintages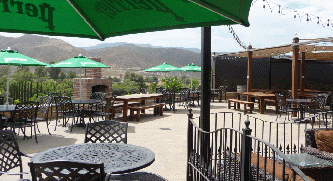 Robert Renzoni Vineyards is located at 37350 De Portola Road in Temecula, Ca. 92592, For hours call 951 302 8466, web www robertrenzonivineyards.com..
Avensole Winery has an interesting history. Vince Cilurzo and Bud Van Roekel, two of Temecula's pioneer vintners, first planted the vineyards that now surround Avensole. The Lytton Family acquired the hilltop property and vineyards in 2014, then known as Van Roekel, and renamed it Aversole. These vineyards are more than four decades old and now consistently produce award winning wines. Since 2012 these vintages have received 21 awards.
The restaurant was designed by Susan Lytton, already an experienced interior designer. The result is that one enters a hilltop, park like area offering wide vistas in every direction. There is a complete bar and lounge and then an extensive patio for dining. The menu shows salads, flatbreads like chicken pesto and avocado toast, sandwiches and lunch and dinner daily specials. The mains include salmon, half chicken and shrimp linguini.
Our lunch in this scenic ambiance included stuffed mushrooms, a Avensole burger with caramelize onion and mozzarella cheese, as well as the fish & chips.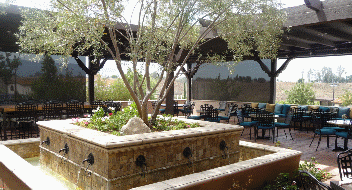 Week days the restaurant is open for lunch only. On Saturday and Sunday there is also dinner service and live entertainment.
Avensole Winery is located at 3467 Rancho California Road, Temecula, Ca. 92591. Telephone 951 252-2003, web www.avensolewinery.com..
Another winery that was new to us was Somerset Vineyard & Winery. But when we arrived there it all looked familiar to us from an earlier time.
The mystery was soon cleared up for on our earlier visits it was named Keystone. Now it was Somerset and we were greeted by Owner Kurt Tiedt.
Arriving at Somerset one passes a most elegant garden with flowering roses and in the distance vineyards. Kurt explained that here the emphasis is on the Rhone styles varietals that originated in the south of France. And promptly we met three that have already won awards. They were Somerset 2018 GRV, a white Rhone blend, Somerset 2018 Viognier and Somerset 2018 Roussanne. Then there were blends like 2017 Le Merridio that included Grenache, Consault and Mourvedre or 2013 El Maestro with Grenache, Syrah and Tempranillo.
The picturesque Somerset Tasting Room is surrounded by greenery covered patios perfect for picnics, tastings or just enjoying the countryside setting.
On weekends things become even more active with live entertainment, special events including food trucks, and dancing.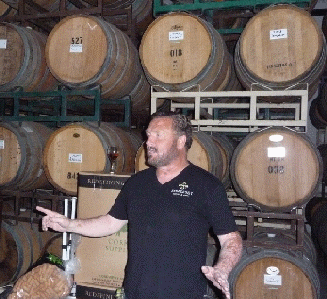 Kurt invited us on a tour that included the barrel room and then the winery itself with its gleaming stainless steel equipment.
Somerset Vineyard & Winery is located at 37338 De Portola Road, Temecula, Ca. 92592, Telephone 051 751-6892, web www.somersetvineyard.com.
Back to Table of Contents..
Last Update:08/1/19
&copy 2019 Joe Hilbers All Rights Reserved.
Graphic Design by Impact Graphics