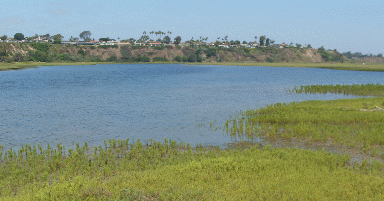 "Newport Beach--The Upper Newport Bay Reserve is a place to enjoy natural beauty"
.
<
By The Editor
As summer temperatures in the San Fernando Valley edge and reach triple digit the beach becomes ever more inviting. Fortunately with its long coast line the choices of where to spend the day at the beach are numerous and offer great variety. Perhaps this day we want to just get our feet wet and sandy as we walk and admire the scene or maybe for a change chose one of the piers that stretch from shore and then pretend you are viewing the ocean horizon from a cruise ship. This Writer is guilty of all of the above as we add to the crowds on Highway One.
And yes we know of other seaside locations that we have practically to ourselves. One of these is the Upper Newport Bay State Ecological Reserve and Marine Conservation area. This wetlands sanctuary can be reached from Jamboree Blvd in Newport Beach. Here a road follows the Newport estuary as it winds inland from the sea. It is one of our favorites for its peaceful serenity and beauty. As likely as not the only people you will meet here are joggers and a few folk peddling bicycles.
We did note that a good deal of work had been completed since our last visit including boardwalks to keep visitors off the fragile natural flora and wildlife. Also benches in places for admiring the estuary as it winds inland from the sea.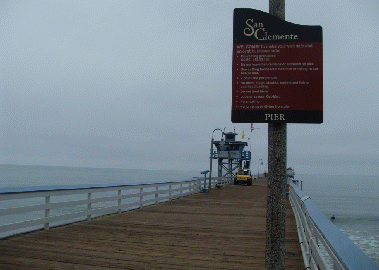 On this visit we also included the San Clemente Pier and noted that this is the only one that includes a MetroLink station. We had passed the Pier many times either on a train or car but this was the first time we actually stopped and experienced its attractions that include a very tempting seafood restaurant.
In this area we also always include visits to Dana Point. Charles Henry Dana was one of our boyhood heroes for we read his classic "Two Years Before the Mast" more than once, and yet again recently. Also his books relating to later visits to California after settlement was truly underway and the raw hide trade was a thing of the past.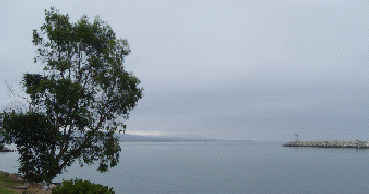 This time we chose the parklike area of Dana Point where the breakwaters separate the marine harbor from the sea. The morning was pleasantly cool and with the usual marine overcast that made looking for shade unnecessary. We shared this with many dogs who were out walking their overattentive owners.
Then of course to the north of where we live there is Sycamore Canyon beach, but we will save the telling of that for another time.