"Los Angeles--Prosecco, Italy's sparkling wines offer quality and value"
..
By The Editor

.
When most people think of Italian its about the foods and wines. O.K., pizza, and I rest my case. However if your interest broadens then may we recommend Eataly Los Angeles located in the Century Mall.
We were there recently to attend a well conducted seminar on Prosecco by Luigi Capasso. Luigi is Senior Beverage Manager at Eatasly. These sparkling wines are popular, not only in Italy , but enjoy a huge world wide following. Last year almost five hundred million bottles of Prosecco D.O.C. wines were produced with twenty five percent for Italy and seventy five per cent for the foreign markets.
Prosecco, like almost all sparkling wines, are available as Brut, Extra Dry or Dry. This generally pertains to the sweetness with Brut the driest and the other two ranging higher residual sugar levels.
At our seminar we tasted four Brut wines and four Extra Dry. All were recognized Italian brands and all D.O.C. Principal varietal grape in these wines is Glera with a minimum of 85 per cent. Four other native grapes to the region including Verdiso can be used in the blend.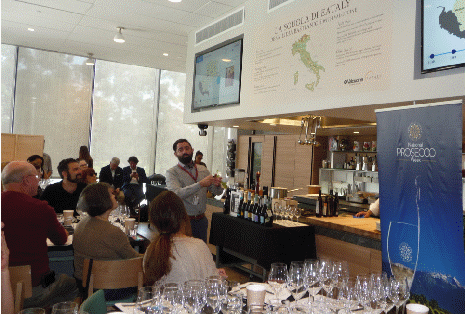 D.O.C. rules include a second fermentation of at least 30 days and 18 months in the bottle. All the wines we tasted were of excellent quality and it was just as matter of person taste as to which received the highest points. Using a twenty point system we gave one Brut nineteen points, two eighteen points and one seventeen points. With the four Extra Dry wines we tasted one earned nineteen points, two eighteen points and one seventeen points.
As we tasted these wines an Eataly Chef was preparing Italian appetizers and pizza to match the sparklers and these proved a showcase on Prosecco's food-pairing qualities. Prosecco is a perfect food sharing wine which accounts for its appeal that continues to grow each year in production volume.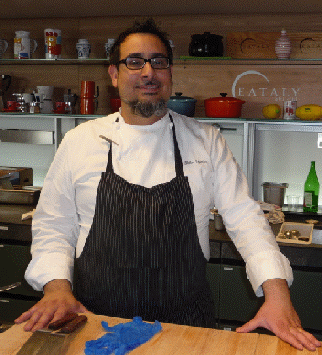 Eataly L.A. is located on two floors of the Mall with the restaurant on one level and on the second a huge assortment of all the best in Italian foods and wines. With my own Italian ancestry leaving all this was not easy.
Back to Table of Contents..

Last Update:6/8/19
&copy 2019 Joe Hilbers All Rights Reserved.
Graphic Design by Impact Graphics