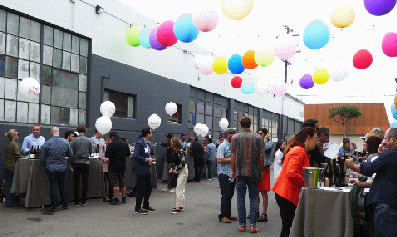 "Vernon--The Seven % Solution took a new approach to the tasting of Caifornia wines" .
.. By Joe Hilbers
The Seven % Solution offered a new approach to the introduction and tasting of California wines. Taking place in Vernon, the heartland of Los Angeles industry, it included 42 California wineries , sixty grape varieties and some 200 wines. An industrial firm producing restaurant aprons, Hedley & Bennett, was the actual location offering both in and outdoor sites for the winery booths.
Official host was Bergamot Wine Co, with Allison Levine of Please the Palate as event coordinator and Michael Helton of One Table Catering presenting the well chosen brunch that accompanied the tasting.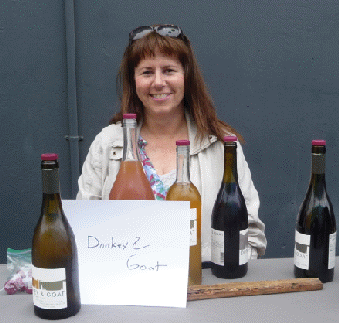 The participating wineries were from all parts of California and some with names that have strayed far from the traditional. There was the Donkey & Goat Winery with brands like Twinkle or Eliza, Front Porch Farm from the Russian River, Horse & Plow from the Carneros region of Napa and Rootdown Wine Cellars. Then there was Dirty & Rowdy Family Winery, Fine Disregard Wine and Nonesuch Wines.
The theme was "For Love of the Grape" with proceeds going to that nonprofit organization dedicated to the perpetuation of grape varietal diversity in California.
Certainly that diversity was present with grape varieties like Blaugrankisch, Negrette, Touriga Nacional or Zweigelt to taste and learn to pronounce.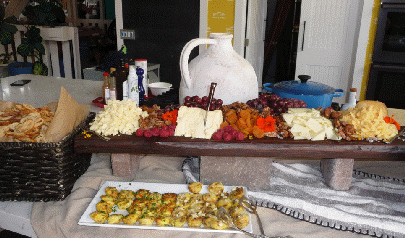 With such diversity it proved to be a memorable occasion that those fortunate to attend and even Vernon looked, well not good, but o.k. on a pleasant Spring day. Back to Table of Contents..

Last Update:6/11/19
&copy 2019 Joe Hilbers All Rights Reserved.
Graphic Design by Impact Graphics