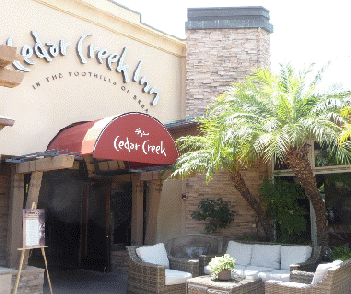 "Brea--Good restaurants like Cedar Creek are where you find them"
.. By Ronnie Greenberg
Not too far from beaches, mountains or the desert, and 33 miles southeast of Los Angeles in Orange County, Brea does not disappoint . Coming to life in Brea, Cedar Creek Inn is a restaurant for classics & cocktails set in a craftsman style building in the heart of a vibrant business area. Right outside the entrance are plump couches and comfy arm chairs welcoming you to sit while your party gathers, setting the vibe for a grand experience ahead.
Once inside there's an open and spacious woodsy ambiance and decor, bars, four fireplaces, and several dining rooms that look out at colorful patios.
Personable co-owner Jim Walker is actively at the helm overseeing that everything goes smoothly, including his very well trained, knowledgeable and courteous waitstaff led by manager Nanceejo Hoertz. >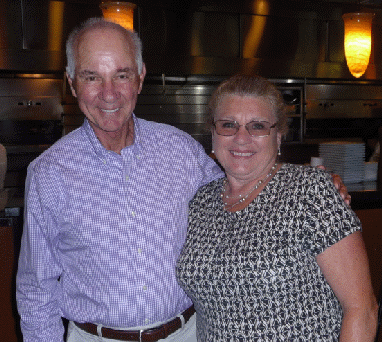 For lunch a meal could begin with the 'Brown Derby' style Cobb salad, finely chopped like its namesake; chicken papaya a mildly curried chicken salad; seared Ahi tuna or seafood salad. Popular sandwiches are the Monte Cristo; prime rib French dip; chicken cashew croissant; or grilled cheese and short rib. Plates include angel hair pasta, crab and scallop cakes; stuffed Portobello mushroom; and the ultimate BLT.
Dinners start with your choice of soup or Caesar or House salad. Then on to a dynamic selection of entrees that include: Brie and pecan chicken; cedar planked salmon; rack of lamb; wild shrimp; prime rib; Porcini crusted filet mignon; meatloaf and mashed potatoes; braised boneless short ribs; coffee crusted New York strip steak; pot roast; prime rib of pork; and Land & Sea, porcini crusted medallions of beef tenderloin and wild shrimp with creme fraiche mashed potatoes.
Yummy deserts include: maple creme brulee; almond and praline ice cream pie; white chocolate and raspberry cheese cake; triple layer chocolate cake with ice cream; Toll House pie; lemon and chocolate Granache tarts; and the piece de resistance, the Signature coconut cake with vanilla bean ice cream.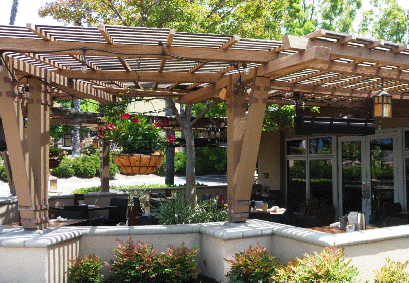 >
There's a wide menu of white and red wines by the glass or the bottle, as well as craft beers and ales.
Weekend Brunch is off the menu and in addition to the lunch specials offers creme brulee French toast; New York steak and eggs; Oxacan scramble; veggie omelet; seafood omelet-classic eggs Benedict and crab-scallop cake Benedict. Sangria; smoky bloody Mary; blood peach bellini and bottomless glass of champagne or mimosa, could easily complete the buzz.
Happy Hour has the unique distinction of two differently priced menus, each offering various choices of food and beverages for your pleasure. Hours are Monday to Saturday 11: 30 a.m. till close for lunch and dinner , Sunday 10 a.m. to close.
Happy Hour in the Bar 4 to 7 p.m. Brunch is served on Saturday and Sunday starting at 10 a.m. Entertainment Tuesday through Sunday starting at 7 p.m.
All holiday celebrations and social events are joyously arranged to perfection .Brea Creek offers four dining spaces that can accommodate private and semi-private events.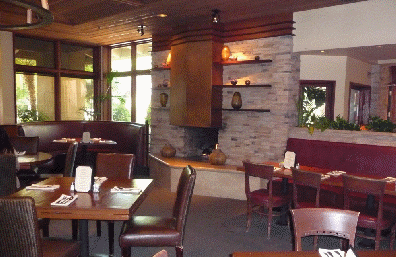 Cedar Creek Brea is located at 20 Pointe Drive, Brea, CA 92821 (714) 255-5600 www.cedarcreekbrea.com. There is free off street parking.
The Bungalow at 2441 E. Coast Highway, Corona del Mar is another of Jim Walker and Louis Feinstein's upscale venues (949)673-6585 www.thebunglaowrestaurant.com
Back to Table of Contents..

Last Update:6/12/19
&copy 2019 Joe Hilbers All Rights Reserved.
Graphic Design by Impact Graphics