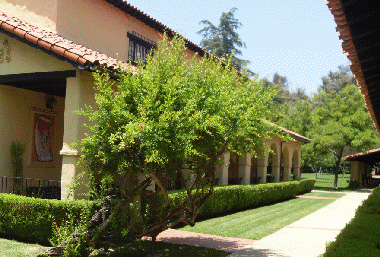 Mission Hills--San Fernando Mission offers quiet interlude in busy Los Angeles"
..
By Joe Hilbers

.
Our visit to the San Fernando Mission was a retreat from the electronic frenzy of Los Angeles to the peace and tranquilly of another time. The San Fernando Mission dates back to 1797 as the seventeenth in the chain of missions extending along Alta California that became El Camino Real.
The San Fernando Mission stands apart, in one aspect, from all the other missions since it is named for a King of Spain. He was King Ferdinard who reigned from 1217 to 1252.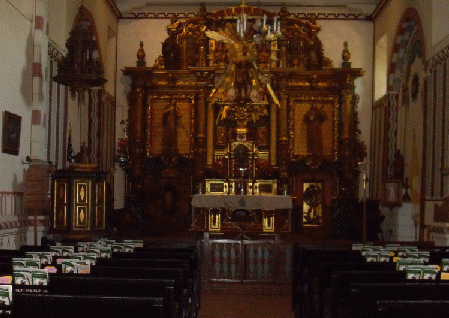 There is much to see and enjoy here so allow plenty of time for a visit. Both the East Garden with its flower shaped fountain and the West Garden with rare and massive trees invite leisurely resting places to relax and let a busy world pass you by for at least a brief time.
The Old Mission Church, an exact replica of the first erected in 1806, is open to visitors and the interior furnishings are from the original some dating back to the l6th century. On Sundays Mass is still conducted here at 9 a.m. and 10:30 a.m.
Behind the Church is the Bob Hope Memorial Garden where the famed entertainer and his wife are buried. Here again is a lovely designed garden that encircles the original cemetery and resting place for the first neophytes and settlers.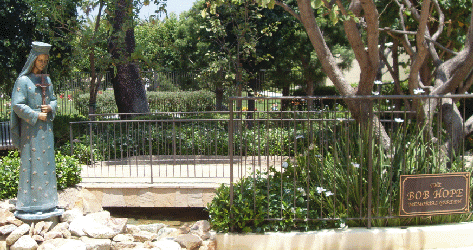 The main building of the Mission, entitled 'Convento' was completed in 1822 after 13 years of construction. Along its corridor are twenty one Roman arches, each made with massive amounts of adobe.
Here can be seen the original workshops that included blacksmith, saddle and pottery sites with all still containing the original furnishings. Also here the Historical Museum which includes art and photographs as well as costumes of the earliest arrivals to the region
At the Convento is the original wine cellar of the Mission and a room offering several historical films on early life at the original Missions.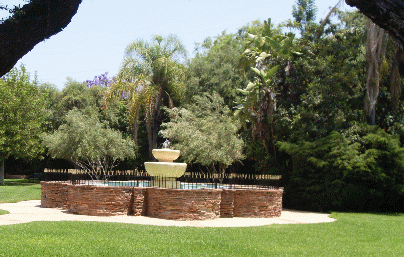 The Mission property includes Bishop Alemany High School and the San Fernando Mission Catholic Cemetery. The Cemetery is large and was ablaze with color from huge number of flower bouquets the day we were there.
This Writer is well acquainted with this Cemetery since my parents, Joseph and Josephine Hilbers, rest there under a live oak tree.
For visitors the San Fernando Mission is open daily from 9 a.m. to 4:30 p.m. There is a $5 admission charge for viewing the premises. It is located at 15151 San Fernando Blvd., Mission Hills, Ca. with free off street parking. Telephone 818 361-0186, web www.missiontours.org.
The serenity we enjoyed at the Mission soon vanished for en route home we encountered a massive traffic tie-up at the 405/ 101 freeway interchange. Welcome back.
Back to Table of Contents..

Last Update:6/20/19
&copy 2019 Joe Hilbers All Rights Reserved.
Graphic Design by Impact Graphics