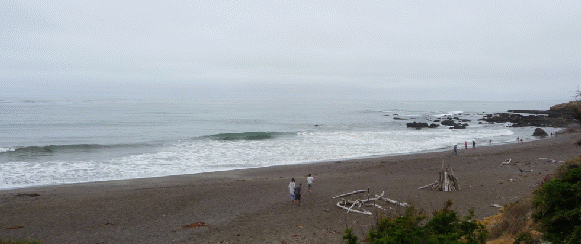 "Cambria--Here is another beach community that makes California's Highway One so exciting" .
.. By Joe Hilbers
Cambria is another of those California beach cities that have changed little over the decades. Downtown is nestled in a valley a short way from the coast. At the coast Cambria has Moonstone Beach and following the coast line is Moonstone Drive with its long row of inns and resorts.
Moving through downtown Cambria is a look of an earlier time in America. Most of the shops and businesses are small and intimate featuring a single commodity or service. The city is divided in its downtown area with an East Village and West Village.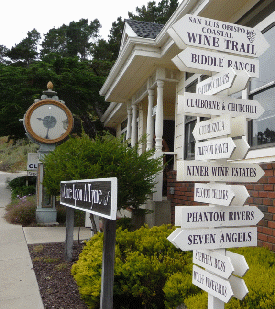 The East Village places Cambria's historic past on display. There is an historic Walking Tour through East Village that links the city's past with the present. Most of the winery tasting rooms are located at the East Village.
Moonstone Beach Drive follows the ocean shore for a few miles offering views of scenic coast to the far distance. We found the trail adjacent to this road most rewarding with the close-up ocean shore and stunning views.
As a stop on the San Luis Obispo Coastal Wine Trail Cambria hosts many wine tasting rooms as well as some very special restaurants. On this visit we visited one of the downtown tasting rooms, Cutruzzola Vineyards.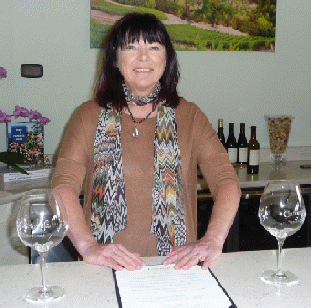 The wine tasting rooms in Cambria are in both villages, Cutruzzola Vineyards is located in the West Village. We were greeted by Mari Fedrow at a very well appointed facility with adjoining off-street parking. Cutruzzola Vineyards was established early in the 21 century with the actual vineyards located at Cambria adjacent to the Pacific Ocean. Thanks to this terroir Cutruzzola features wines from the Riesling and Pinot Noir varietals that do particularly well in a cooler climate.
The wines we tasted proved to be exceptional vintages for Riesling and Pinot Noir. General Manager Reyna Jonas explained that the vineyard proved ideal for these varietals and the powerful wines they produce.
The only other wine produced is an excellent Zinfandel. This is from a vineyard located in the Russian River Valley at Forrestville from vines first planted in 2006.
We enjoyed the wines and considered the Cutruzzola Tasting and its facility well worth a visit. It is located at 555 Main Street in Cambria, and open daily. For hours call 805 927-2670, web www.cutruzzolavineyards.com.
Once again we visited Stolo Family Vineyards on the outskirts of Cambria. It is the only winery in Cambria that includes 22 acres of vineyards, the winery, tasting room and picnic patio. All this only a few minutes drive from downtown Cambria.
Here we met Diego Aguirre who is general manager. On an earlier visit we met Winemaker Nicole Bertotti Pope who took us on a tour of the modern winery and explained the adjacent vineyard is only three miles from the Pacific Ocean located on Santa Rosa Road
Nicole learned her winemaking skills at Cal Poly. With its nearby ocean location Stolo offers true Burgundian style wines. Adjacent to the tasting room and vineyard there is a patio for relaxing picnics and a whole series of summer concerts while tasting some very good wines. The vineyards are on land that has been in the Stolo family for generations.
Stolo Family Vineyards is located at 3776 Santa Rosa Creek Road in Cambria. The tasting room is open daily from 11:30 a.m. to 5 p.m. Telephone 805 924-3131.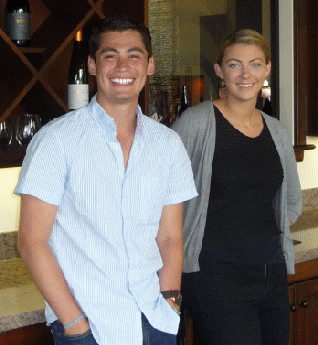 To say we were pleased with our stay at Fog Catcher Inn is an understatement. Our room was a stone throw from the ocean and we used up a good deal of our time watching waves, surfers, sunsets and other folk enjoying all of the above
Fog Catcher Inn is located at 6400 Moonstone Beach Drive, Cambria, Ca. 93428. Telephone 895 927-1400. Web www.fogcatcherinn.com.
Another attraction on Moonstone Beach Drive is Moonstone Beach Bar & Grill. Our dinner here proved to be a special event showing a large menu with a full page of exciting seafood entrees. Following cocktails we opened with a cup of creamy clam chowder, then followed with two entrees which we shared. One was the seared sea scallops on a bed of Spanish rice, the other Shrimp pasta, large shrimp sauteed with mushrooms and white wine and tossed with rotelle pasta topped with Parmesan cheese.
Besides the seafood this restaurant has a large assortment of lamb and beef entrees and eleven sides available. The lunch menu is also large and includes fish tacos, sandwiches, burgers and salads.
This full service restaurant is large with every table offering an ocean view. There is a full bar and lounge as well as a very large oceanfront patio.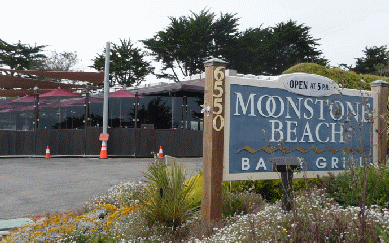 There are forty tables and the restaurant can accommodate over 200 people. It is open for lunch and dinner seven days a week with a Sunday Brunch. Hours are for lunch 11 a.m. to 3 p.m., dinner 5 p.m.to 9 p.m. The restaurant is closed between 3 and 5 p.m. each day. This restaurant does not except short notice reservations.
Moonstone Beach Bar & Grill is located at 6550 Moonstone Beach Drive, Cambria, Ca. 93428 with off street parking. Telephone 805 927-3859, web. www. moonstonebeach.com.
Back to Table of Contents..

Last Update:6/30/19
&copy 2019 Joe Hilbers All Rights Reserved.
Graphic Design by Impact Graphics