"Yuma--Our dining experiences showed diversity in ambiance and cuisine"

by Joe Hilbers, Editor
Our culinary adventures in Yuma never seemed to end. One evening we were at Yuma Landing Bar and Grill which is part of the Best Western Coronado Motor Hotel. Here we met our hosts John and Yvonne Peach at the Captain's Lounge and were promptly served a cocktail by Bartender Kilee Hood.
Executive Chef Thomas Wright shows an American contemporary menu that fits well with the sports bar which is part of the operation. To be found on the menu are steaks, chops, ribs and combos like steak and shrimp. We enjoyed our Pasta Pesto with grilled chicken strips. Like most Yuma restaurants southwest cuisine is well represented with items like street tacos.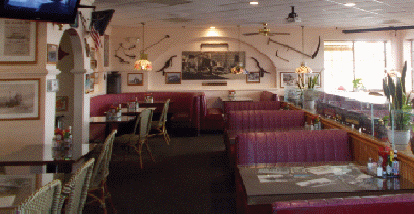 The bar and dining rooms are a showplace for photographs and artifacts that depict a history of the City of Yuma through many decades. Farming, aviation, river traffic and railroads are all subjects covered on the walls and counters. They are all in keeping with the Casa De Coronado Musuem which is also a part of the Hotel complex.
We also had breakfast at Yuma Landing and found a large menu with entrees bountiful and well served. There are even combos for those with truly hearty appetites.
Yuma Landing is located at 195 S. 4th Street, Telephone 928 782-7427. It is open daily from 6 a.m. and serves breakfast, lunch and dinner. The Sports Bar is open till 10 p.m., 11 p.m. on weekends.
One evening we visited Yuma's Main Squeeze, a custom winery, the only one in south Arizona. The state now has fifty wineries with most located in the north. Fred Earle has been making wine at Squeeze for twenty years and uses most original names on the labels. The Winery includes a tasting room, wine bar and restaurant and even promotes tours of the area. Mary Earle is in charge of the restaurant.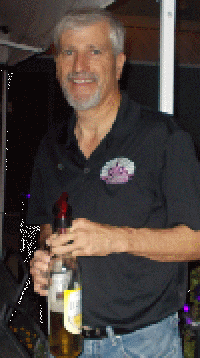 We sat in a delightful patio and tasted wines with names like Yuma Crossing Chardonnay, Yuma Main Squeeze, Muscat Love, Centennial Zinfandel and Leading Lady Pinot Grigio.
Yuma's Main Squeeze is located at 251 S. Main Street, telephone 928 247-9338.
Something of a tradition in Yuma is having breakfast or lunch at The Garden Cafe. It is located in what was once a private garden of a prominent citizen with lush flowers and trees. Adjacent is the Rio Colorado Coffee Company. For thirty years the proprietors have been Debra and Bruce Gwynn.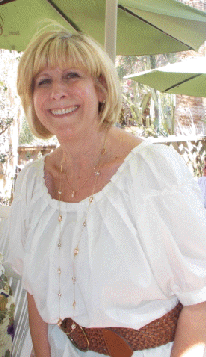 The Garden Cafe shows an exciting, innovative menu with many sandwiches, salads, and soups. There is a whole list of sandwiches made with Tri Tip. There is also a well chosen mix of classic southwest fare. We had the turkey and Monterey Jack sandwich on sourdough bread and it was so big we could not quite finish it all. It came with a choice of salads, ours was the red potato.
The Garden Cafe is open Tuesday thru Friday for breakfast and lunch with a Sunday Brunch. Closed Mondays. It is located at 250 Madison Avenue, Telephone 928 783-1491
We moved west one evening to the Quechan Casino Resort which is located just off Interstate 8 on the California side and only one mile from Algodones, Mexico. It is a complete resort with a casino, 166 luxury rooms, a huge patio with heated pool and a winding lazy river for leisurely floating. Of the food facilities for dining we chose the upscale Ironwood Steakhouse and dining is the correct word.
Executive Chef Luis Garcia shows a menu with a complete list of steaks, fowl and seafood favorites. The wine list is divided by varietal for easy reading. We opened with a shrimp cocktail which was unique in presentation. The large shrimp were arranged in a row on a bed of crushed ice on a long rectangular dish divided by lemon and centered with the horseradish flavored cocktail sauce. This was presented by the talented wait staff with some flourish to an appreciative audience who all reached for their cameras.
I chose the midsize filet mignon which arrived as ordered, pink in the middle with a side of pan fried mushrooms. All the entrees were eye catchers in presentation, our dining partners with a huge porterhouse steak, another with a New York steak in a seductive wine reduction sauce. Desserts were equally impressive but sadly for once I had to just look and admire them.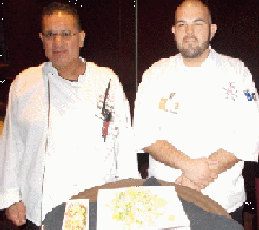 Before leaving we had the opportunity to talk with staff members Sous Chef Ruben Guerre, Executive Chef Luis Garcia and Guillermo Aguilere, Ironwood manager, and express our appreciation for their talent and expertise.
One day we had lunch at Lutes Casino located on Yuma's main street in historic downtown. This watering hole and restaurant has been in institution in Yuma for fifty years under the personal supervision of Bob and Nancy Lutes, a brother-sister team. Bob is the classic Host greeting and chatting with the customers, many who he knows by name. The ambiance and decor is a museum of its own with walls and ceilings decorated with a century collection of memorabilia and artifacts of every kind and description. Son Michael is general manager. In this picturesque setting is the bar and then round tables with stools for chairs. The menu is large with both American and some southwest classics. We chatted with both Bob and Nancy and found out that they were both born in Yuma just a short distance from where Lutes is located.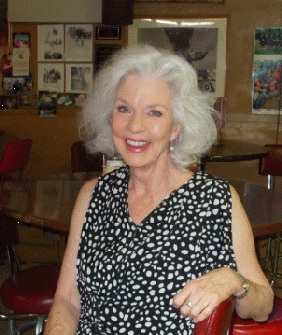 Our lunch there was a special event with a lively atmosphere that is contagious. We had a wonderful Tri-Tip sandwich with buckets of ice tea. Tri Tip is one of the favorites on the menu and is marinated and sliced thin for sandwiches.
Lutes Casino is located at 221 Main Street, telephone 928 782-2192.
One thing we learned in Yuma is that it has some very good restaurants. The Desert Hills Golf Course offered the perfect setting for dinner after a busy day. The restaurant is called Hills and offers a bar lounge and both inside and patio dining. The Course is Municipally owned and both the clubhouse and restaurant have been remodeled and expanded several times. In its present form it offers an outstanding dining experience.
We talked with Rita Perez, restaurant manager, Stephanie McMillin and Sous Chef Geraldo Mateo. The menu offers contemporary and southwest cuisine. The taco salads at our table were huge. The shrimp cocktails arrived in large oversized tulip shaped glasses with the shrimp sitting on the rim in crushed ice.
A French onion soup with abundant melted cheese opened our dinner which was followed by a fish fry, a large filet of halibut in a beer batter with both tartar and cocktail sauces. Dessert was one of our personal favorites, bread pudding. This was presented as a huge slice topped with cream.
After this repast we all adjourned to the patio and watched a multi colored sunset over the golf course. It does not get much better than this.
Back to Table of Contents..
Last Update:4/21/14
&copy 2014 Joe Hilbers All Rights Reserved.
Graphic Design by Impact Graphics