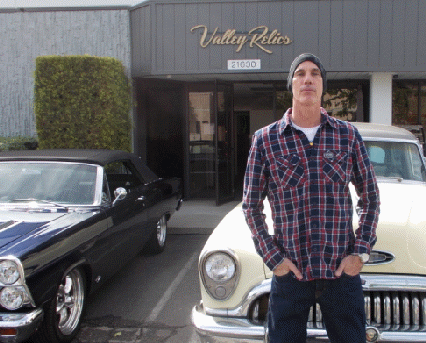 Chatsworth--This Museum shows an earlier San Fernando Valley"
What was once one man's hobby has become a legacy for a large part of Los Angeles. The man is Tommy Gelinas and the object of his interest preserving an earlier San Fernando Valley. Being a resident of the Valley all his life, Gelinas has been able to watch the vast changes that have taken place in the Valley during the last half century.
So he decided to save some of the things that displayed the Valley in earlier decades. He collected as he could whether restaurant signs, menus, automobiles, and most of all memorabilia of people who played a role in the Valley's continuing development. He looked for buildings, abandoned after enjoying a distinctive Valley role, to salvage what he could whether signs or artifacts.
This Writer, also a long time resident of the Valley, can testify how quickly things can change, Businesses, some household names, have come and gone, Restaurants, some that I wrote reviews for publication, can disappear overnight. Entertainment centers like Bush Gardens came and went. Shopping centers faded and were replaced with sprawling malls.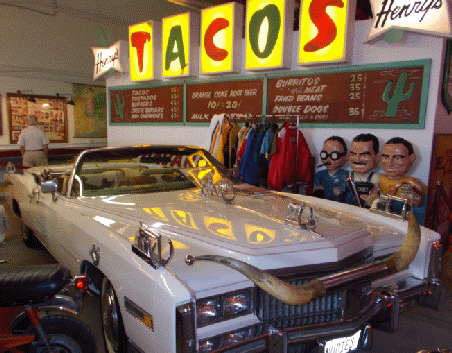 Tommy Gelinas for over 20 years has been determined to save as much of the memorabilia of these Valley earlier beginnings as possible. His problem became space, storage space for all that he was acquiring.
The answer is Valley Relics, official name "The San Fernando Valley Relics Cultural Museum' Nine months ago he acquired a building in the west Valley, divided it into rooms, each with a separate theme, and opened the Museum. The response has been immediate. At present the Valley Relics is open only on Saturday from 10 a.m. to 3 p.m. but people come, are impressed and spread the word.
There are now some 250,000 followers on Facebook. Civic organizations, schools, and Neighborhood Councils have all taken notice and voice support for this endeavor.
As I approached Valley Relics, parked in front were three vintage automobiles all in mint condition. I met Tommy Gelinas, introduced myself and explained I wanted to write about the museum and took his picture in front of one of the cars.
Nudie's was famous, not only in the Valley, but almost world wide for its elaborate lines of western clothing. One room is devoted to some of Nudie's clothing, and photos of almost every western star, all who were customers. There is also a collection of photos of Valley-Hollywood cowboy actors and western musical groups.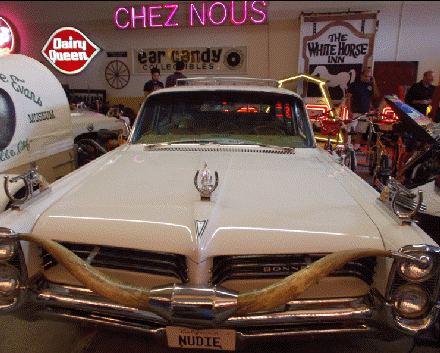 For many years I had an office in North Hollywood only about a quarter mile from Nudie's. Mr. Nudie owned two Cadillacs, each prominently decorated with western gear. In front of each car mounted sets of long horns, on the sides mounted Winchester rifles and horseshoes. And he was a familiar figure as he drove through the neighborhood. Both these automobiles are now in the Relics museum.
Exhibits in another room include a collection of match book covers, many from familiar restaurants, again some subjects of reviews written by this Writer for publication. The main hall includes signs from well known restaurants and eateries as well as automobiles and artifacts.
For us, as longtime Valley residents, the visit was a trip down memory lane.
Valley Relics Museum is located at 21630 Marilla Street, Chatsworth. It is open on Saturday from 10 .m. to 3 p.m. with free admission and free parking. For more information call 818 678-4934, on the web at valleyrelics.org.
Last Update: 2/26/14
&copy 2014 Joe Hilbers All Rights Reserved.
Graphic Design by Impact Graphics