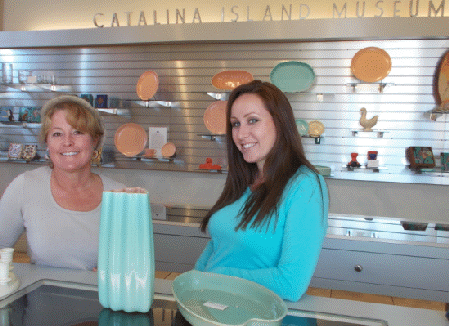 "Avalon--Catalina Island Museum will soon have a new building and location"
On our trip to Avalon we learned that the Santa Catalina Island Museum will be in a new building located in the center of town in 2015. For many years it has been on the lower floor of the Casino, very popular, but with limited space. All this will change since the new location will have almost four times more exhibit space. As Media and Marketing Manager Gail Fornaisere explained to us this will allow the museum to show much of its historic collection as well as expand to new subjects for exhibition.
At present the museum has been averaging 65,000 visitors each year. In 2013 Avalon celebrated its Centennial as a town. An excellent exhibit marks this event showing how it has had a turbulent history with fire and ocean generated storms. On a positive note William Wrigley after purchasing the island in 1919 turned it into a world renown resort in just ten years.
Hollywood has had much to do with this fame including its celebrities and locations for many films. A film about the old west was photographed with imported America buffalo. These animals prospered on the Island and are still be seen in the Island's interior. The original Mutiny on the Bounty was filmed there.
One exhibit displays some one hundred photos of famous visitors including Winston Churchill and movie stars like Marilyn Monroe. In fact Marilyn's connection with Catalina is also one of the exhibits since she was a teenage Norma Jean when she first visited the Island with her first husband and long before fame found her.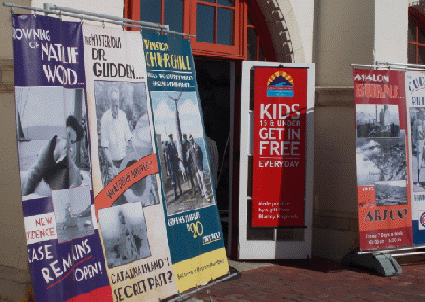 There is also the Tuna Club of Avalon with names like Winston Churchill, Charles Chaplin, Zane Gray and Bing Crosby. An upcoming exhibit explores the relationship of Charles Chaplin with Paulete Goddard, a part of the 125th birthday of the famous actor, celebrity and comedian.
Another exhibit explains the Island's early history as a native American settlement that existed for hundreds of years before Spanish explorers sighted it in the 1500s. Another the era of William Wrigley Jr., the chewing gum mogul from Chicago who purchased the Island in 1919 and immediately set about bringing it into the modern world. It was he who built the Casino that continues to dominate the Island's shoreline. Construction started in 1928 and was completed in 14 months with much work being done 24 hours a day at the cost of $2 million.
Mr. Wrigley also owned the Chicago Cubs baseball club and started bringing it to Catalina for Spring Training. For this purpose he also built the Catalina Country Club, with its handsome clubhouse and dining facilities, and a nine hole golf course. And Ronald Reagan's film career was launched after taking a screen test while on the Island with the Chicago baseball team.
A new exhibit studies the mystery that still surrounds the tragic sudden death of Natalle Wood in the waters off Catalina on November 28. 1981.
In its early years Catalina was home to many smugglers and this has occurred again this time with the recent capture of Mexican smugglers in small boats carrying marijuana
Give yourself plenty of time for a visit to the Catalina Island Museum which is located on the ground floor of the Casino. It is open daily from 10 a.m. to 5 p.m. For more information call 310 510-2414, on the web at www.catalinamuseum.org.
Back to Table of Contents..
Last Update:3/5/14
&copy 2014 Joe Hilbers All Rights Reserved.
Graphic Design by Impact Graphics