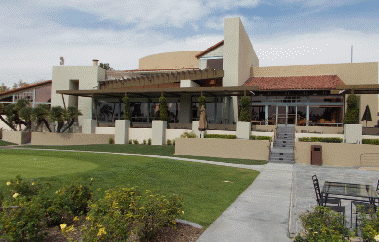 "Tustin--Fine dining and exciting events are to be found at Tustin Ranch Golf Club" By The Editor
.
Few places offer the tranquillity and serenity of a golf course with its manicured greenways. artistic setting and the sheer luxury of spaciousness.
As an inept golfer for some 30 years this Writer has learned that this peaceful feeling can best be experienced in the club house dining room rather than on the course. Playing golf does not always bring out the best in people, what seemed a delightful day can be quickly erased in a few moments. Leaving disappointment and disgust while pondering "how anyone can take four putts on a par 3 hole."
I thought of this as I looked over the delightful menu at the Tustin Ranch Golf Club Restaurant. From the picture windows of the dining room the course stretched out offering luxurious contentment for the ex golfer who has abandoned the game for the clubhouse.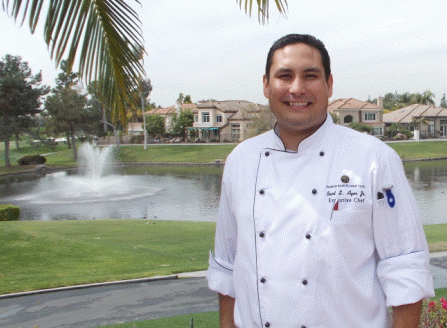 When Master Chef Bert Agor joined Tustin Ranch Golf Club last November the restaurant services expanded rapidly. There is a new colorful contemporary cuisine with exquisite dining rooms that, with ambiance and decor, match the cuisine. The Club's facilities are now prepared for every kind of event including weddings, meetings, conferences or just a pleasant dining experience and relaxing occasion.
We had met Bert Agor before and wrote about his imaginative cuisine when he was Executive Chef at four star Kincaid's Restaurant in Redondo Beach. His background is most impressive including Ruth's Chris, Restaurants Unlimited and Taps Fish House and Brewery.
Since taking over as Executive Chef of Tustin Ranch, besides fine dining in a casual style, there are now winemaker and craft brew dinners, cooking classes, and 'music under the stars", outdoor dining with live music during the summer. There is the Pine Tree BBQ Patio for special events, the Players Lounge, with its own bar, for golfers and guests as well as the picturesque outdoor area for weddings and receptions. There is also a Sunday Brunch which has become a most popular event. At the winemaker dinners great care is given by the Chef and winemaker to match each food item with the right varietal.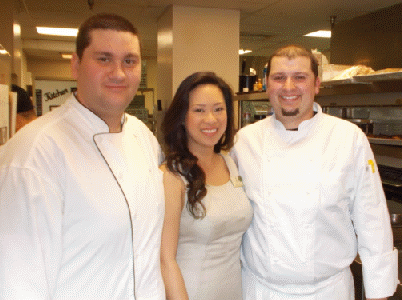 Tustin Ranch Golf Club now offers all the facilities of most private country clubs while remaining public. We met some of the members of Executive Chef Bert Agor's staff including Jessica Tjan, special events manager; Brian Penny, food and beverage manager; Trent Fulghnum, Sous Chef, and Chef Christian Estrada
A plot of ground has been set aside so the Chef can grow his own herbs and spices and some vegetables for ultimate freshness at the table..
The cooking classes has been a success story of their own. Classes are for groups of 60 people and extend over a four hour session. Recent classes have been Sushi 101, Salmon 101 and Pasta 101.
We looked over the Featured Specials menu, that changes weekly, and had some hard decisions to make. The appetizer was grilled East Coast Oyster with Spanish chorizo, burnt salsa, olive oil crumbs. The Taco Feature was Duck Confit with wild radishes, pickled red onions and micro herbs and we had two of these. We just had to sample the "Duck, Duck, Goose" which was duck bacon, duck confit, arugula, and fried goose egg. Then there was the culamari which arrived seasoned with herb crumbs and a dipping marinara sauce.
Next up we had to try the burger slider which was smothered with cheddar cheese and thousand island dressing. At this point we had to stop, yielding before trying the Chilean Sea Bass or Grilled Ribeye. both also on the Featured Specials. On Friday evenings there is a special menu with items like Orange Glazed Salmon, Korean Short Ribs or Bruschette Chicken Breast, all at most modest prices.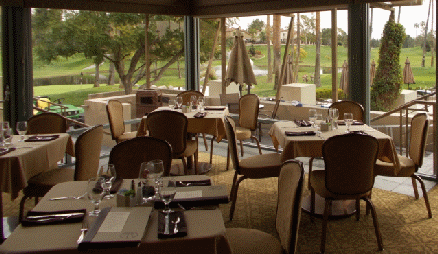 The Tustin Ranch Golf Club is public but with all the amenities of a plush private country club. The Restaurant is open Monday thru Friday for dinner, Saturdays and Sunday Brunch till 5 p.m. The Players Lounge is open from 6:30 a.m. to 8 p.m. seven days a week with a full menu.
The Tustin Ranch Golf Club is located at 12442 Tustin Ranch Road, Tustin, Ca. 92782. For more information call 714 734-2106.