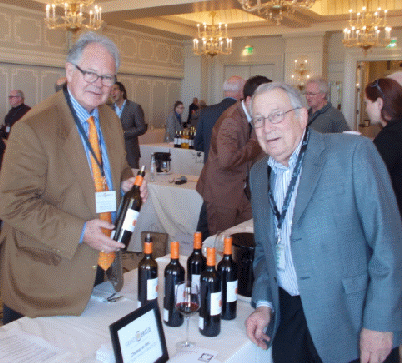 "Santa Monica--Bordeaux Vintners showed their famous named wines" by The Editor
.
Pomerol, Saint-Emilion Grand Cru, Medoc and Margaux--in the world of wine these are historical, famous and even romantic names. But there are more Fronsac, Graves, Montagne Saint-Emilion and the left and right banks of the Gironde River and Estuary.
All these names were present recently in Santa Monica when The Grand Cercle des Vins de Bordeaux, for the second year in a row, presented a tasting at the Casa Del Mar Hotel.
The Grand Circle now includes the original Cercle Rive Droite as well as the Cercle Rive Gauche thus including wineries on both the left and right bank of the Gironde. This was all told to us at a press briefing by Alain Raynaud, president of Grand Cercle. He explained that Bordeaux received it reputation for outstanding wines centuries ago mostly from the left bank but in recent years the right bank wineries have received recognition of their own for its modern winemaking efforts and quest for perfection. Both share the region name, Bordeaux.
Later we again joined Alain Raynaud with Ron Ziff, President and Executive Secretary of the California Beverage Retailers Association.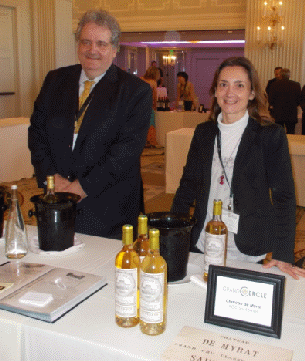 Thirty nine wineries participated at the tasting with many being represented by the owners. We were first drawn to the Sauternes since these wines are so unique to Yquem. We met with Jean-Pierre Meslier of Chateau Raymond Lafon which besides producing memorable wines has also received an 'Best of Wine Tourism' award.
Chateau de Myrat has been around since 1855 and was classified Great Growth of Sauternes in that year. We had the opportunity to meet and chat with Elisabeth de Pontac-Chabot of the De Myrat Estate. The outstanding Sauternes are grown on the left bank.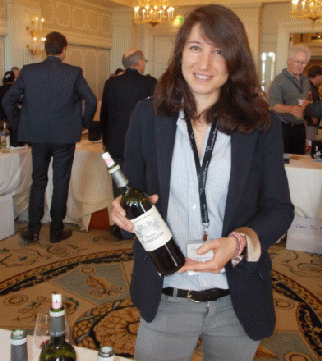 P>We also chatted with Audrey Lauret of Chateau Pindefleurs which has been producing red wines in Saint-Emilion since the 17th century. This Chateau is located on the right bank.
A light lunch of salads and pizza was provided to accompany tasting of the many quality wines.
Back to Table of Contents

Last Update:4/10/14
&copy 2014 Joe Hilbers All Rights Reserved.
Graphic Design by Impact Graphics