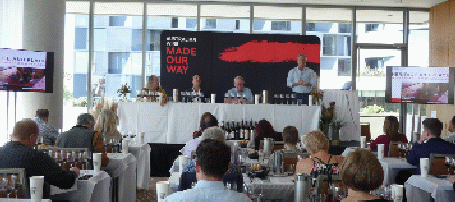 "West Hollywood--'Australian Wine Made Our Way' was theme for seminars and trade tasting with 45 wineries taking part" By The Editor
.
P>Far From Ordinary was the perfect name for the Seminars and Trade Tasting of wines staged by Wine Australia in West Hollywood recently. Using the theme 'Australian Wine Made Our Way" some 45 wineries from six wine producing regions of Australia were present at the showplace 1 Hotel West Hollywood. These regions included Western and South Australia, Queensland, New South Wales, Victoria and Tasmania.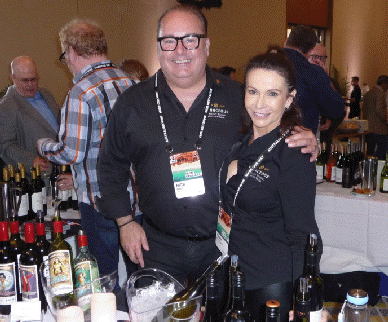 We were fortunate to be included in the seminar that focused on the Shiraz grape varietal entitled 'Heritage and Place-The evolution of an Australian Classic". Here we tasted and learned about how Shiraz was one of the first varietals planted in Australia and that today is home to what is the oldest Shiraz vineyard in the world dating back to 1843. In all we tasted eight Shiraz, each from a prominent winery. Some of the owners of these wineries were present at the seminar and took part the discussion. They included Bruce Tyrrell of Tyrrell's Wines, James Lindner of Langmeil, and Chester Osboure of d'Arenberg. Moderator of the seminar was Mark Davidson of Wine Australia.
All eight Shiraz rated high points on my score card but obtaining a perfect score was Langmeil 'The Freedom 1843' Barossa Valley 2015 Shiraz produced from vines planted in 1843. The vintage is truly a classic. Two others we also gave high marks to were d'Arenberg 'The Dead Arm' McLaren Vale' 2015 Shiraz and Jim Barry Wine 'The McRae Wood' ClareValley 2014 Shiraz.
Following the Shiraz seminar the trade tasting took place with hundreds in attendance. Besides the wine tempting appetizers were passed around as well as two tables loaded with meats and cheeses. There was also the 'Made our Way' theater which presented walk in seminars on the Wine Victoria and Margaret River wine producing regions.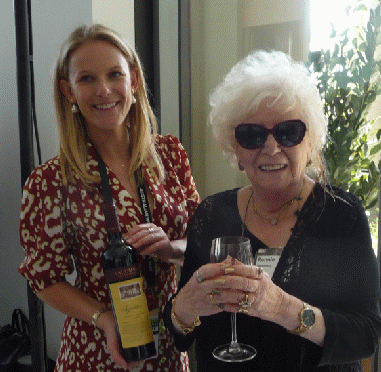 Among the many booths we were fortunate to discover the one for Yalumba Family Estates and a delightful young woman named Jessica Hill Smith, who is the sixth generation of the Samuel Smith family who founded and planted the first vines in 1849. Moving the family and winery into the 20 and 21 centuries has been Robert Hill Smith who works consistently in matching varietals to the terroir. He has also been responsible for producing some memorable vintages by matching and blending red varietals.
After taking a photo of the delightful Jessica we departed well informed on the promising future for Australian wines.
Back to Table of Contents

Last Update:10/10/19
&copy 2019 Joe Hilbers All Rights Reserved.
Graphic Design by Impact Graphics