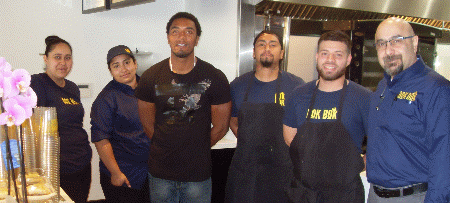 "Culver City--Bok Bok charts a new course to Eastern Mediterranean cuisines"

by Joe Hilbers
It is hard to imagine that any U.S. city offers a more diverse number of ethnic cuisines than Los Angeles. Often whole streets or neighborhoods have been settled by one ethnic group and now offers a number of restaurants presenting that particular cuisine. Glendale is one example where the cuisines of Lebanon and Turkey have been present for generations.
Now a group of restaurants has entered the scene with the concept of making the cuisine of the Eastern Mediterranean as popular as pizza and hot dogs. It is called Bok Bok with its original restaurants located in Las Vegas. Family owned and operated it quickly expanded to five locations in that city and then expanded in 2018 to Los Angeles where there are now three locations.

Looking at the menu we instantly noted that they had retained the names of some of the traditional classic dishes of Lebanon and other countries boarding the eastern Mediterranean. So here with an entree like Shawerma Plate, flame broiled marinated beef it comes with rice pilaf, piaz, fattoush and tahini. Often the choices include hummus, mutabbal, batata salad or quinoa eech. Here the pickles are traditional pickled turnips and sides have names like Falafel or Boreg or Sarma, the classic grape leaves stuffed with rice, onion and spices.
Next we noticed was the very modest prices. The highest priced entree is Beef Kabob or Chicken Kabob plates at $12. With an exhibition kitchen everything is prepared fresh and on order and includes online and delivery. Diners can feast on flame broiled shawerma, free range rotisserie chicken, made to order falafel, salads, soup and sides like we mentioned above.
Our dining experience at Bok Bok took place at Bok Bok Chicken located in Culver City. Other Los Angeles locations are in downtown Los Angeles and Eagle Rock and more to follow. In Culver City the location offers free off street parking, patio dining as well as a contemporary decor and ambiance for leisurely eating.
Like everything the desserts are also classic of the region with Baklava, layers of filo pastry and walnuts soaked in rosewater syrup, or Ashta, shredded filo dough with pistachios and sweet cream or Gatnaboor, rice pudding with cinnamon and rosewater.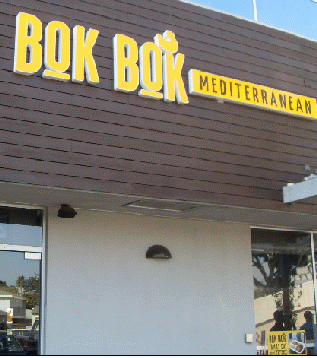 Bok Bok in Culver City is located at 4114 Sepulveda Blvd, Ste E, for lunch and dinner from 10 a.m. to 10 p.m. Telephone 424 29-8294. Other Los Angeles locations are downtown at 108 West 2nd Street, Telephone 213 278-0651 and in Eagle Rock at 2146 Colorado Bvd. Telephone 323 474-6779.
On line at BokBokChicken.com.
Back to Table of Contents..
Last Update:11/9/19
&copy 2019 Joe Hilbers All Rights Reserved.
Graphic Design by Impact Graphics