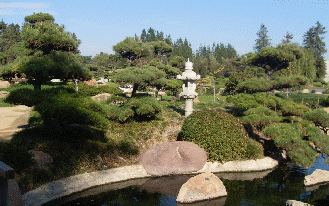 "Van Nuys--The Japanese Garden is a retreat offering calm and expansive beauty"
.. By Joe Hilbers
Vittles readers will note that in recent issues there have been stories about quiet, serene places, where it is possible, for at least a short period of time, one can escape from the seemingly frenzied pace and traffic of Southern California. Now we have found a true jewel and this so close to where we reside in the San Fernando Valley.
It is The Japanese Garden, and after a wondrous afternoon we spent there recently we kept asking ourselves "why did it take us so long to visit it". For here we left the our present mad world of hustle for unbelievable peace and natural beauty. This oasis is named "SuihoEn, The Japanese Tea Garden of Water and Fragrance".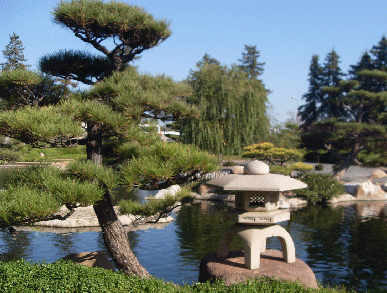 There are expansive gardens, with waterfalls, lakes and streams which we shared with abundant ducks and geese. The stone lanterns, Tea House, Shoin Building and Heavenly Floating Bridge told us that we were indeed in the kind of garden that Japanese Feudal lords made popular in the 18th and 19th centuries.
Here everything has meaning and a story to be told. The Japanese lanterns on display throughout the Garden are made up of five parts or elements. They are from bottom up Earth, Water, Fire, Air, and Spirit. Each lantern has its own name like Kasuga, Daikoki or Yukimi Doro.
Upon arrival at The Japanese Garden one enters the Entry Gate of 'mystic profundity'. Next there is the Dry Garden with its large grass covered mound which represents Tortoise Island, associated with longevity, while large upright stones symbolize the 'island of immortals and everlasting happiness'.
Our tour stopped for awhile as we watched four small geese move by under the careful eyes of both mother and father with our camera recording the scene. There is much to photograph here and we took many photos on what was a perfect Fall afternoon. It was a weekday and we had the Garden, all six and one half acres of it, almost completely to ourselves. As you move along there are benches placed in places with scenic views of the lush gardens and active wildlife.

The Japanese Garden is located at 6100 Woodley Ave. Van Nuys, Calif. 91406, Telephone 818 756-8166, Web wwww.thejapanesegarden.com. Hours are 11 a.m. to 4 p.m. with last admission at 3:15 p.m. There is a small emtrance fee and ample free off street parking.
Back to Table of Contents..

Last Update:11/10/19
&copy 2019 Joe Hilbers All Rights Reserved.
Graphic Design by Impact Graphics