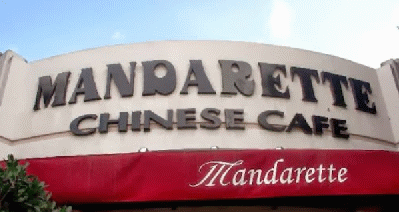 "Los Angeles--Thirty five years and still counting for Mandarette Cafe"
.. By Joe Hilbers
When a restaurant continues to please its customers for 35 years you know they are doing everything right. So it is in West Hollywood at the Mandarette Cafe.
This Chinese Bistro, Restaurant and Bar is owned and operated by Ken Yang who continues to offer traditional Chinese Cuisine but with ongoing modern dishes like the present addition of new Fall entrees. This menu always has ways to entice both regular customers and visitors to the busy Beverly Center area. Items like Strawberry Shrimp are original and become classic favorites.
Originally from Taipei the family includes the Father, Wu Yang, who as head chef, has been responsible a menu that continues to expand while still offering classics like War Won Ton Soup, and his son, Ken Yang, General Manager.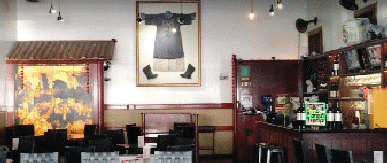 On our visit we opened with this Soup which was almost a meal in itself with choice of chicken or pork wontons as well as chicken, BBQ pork, shrimp, Shitake mushroom and an assortment of vegetables. And of course we had to try the crispy Strawberry Shrimp. Almost everything on the menu can be ordered in either a small or large portion which makes trying new dishes easier and more inviting.
One of the new entrees is Three Cup Chicken, Beef or Squid, this a traditional Taiwanese dish slow cooked in a special sauce. Two other newcomers are from Sichuan cuisine, one a poached fish fillet combined with bean sprouts and a spicy sauce and another spicy one, Aromatic Fiery Shrimp.
After our hearty Soup and shrimp the most we could try was the crispy vegetable Spring Rolls which came with a unique sweeten lemon sauce. However we did manage to add a cup of green tea ice cream from the dessert list.
Here there is a beer and wine bar with happy hours to go with the lunch and dinner menus.
Mandarette Cafe is located at 8386 Beverly Blvd., Los Angeles, Ca 90048, Tel. 323 655-6115, web www.mandarettecafe.com. Mandarette Cafe is open seven days a week for lunch and dinner. Hours are Mon. - Thur. 11 a.m. to 10:30 p.m.; Fri. 11 a.m. to 11:30 p.m.; Sat. 12 p.m. - 11:30 p.m.; Sun. 12 p.m. - 10 p.m.
Back to Table of Contents..

Last Update:11/15/19
&copy 2019 Joe Hilbers All Rights Reserved.
Graphic Design by Impact Graphics