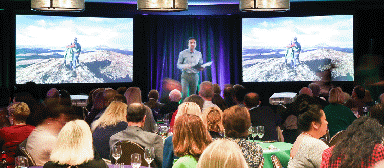 "Westlake--The goal was to 'Fill your Hearts With Ireland"
.. By Joe Hilbers
An evening spent at the Four Seasons Hotel in Westlake certainly provided many reasons for visiting Ireland. Presented to trade and media by Tourism Ireland it offered a new look at the Heritage, Culture and Cuisine of the Island Nation. It also served to launch a new global communications campaign with the title "Fill Your Heart With Ireland".
Alison Metcalfe, Tourism Ireland's Executive Vice President for the U.S. and Canada, explained that the new campaign offers a fresh approach to set Ireland apart from other European destinations. It features lesser known locations and attractions and highlights outdoor activities.
At the Four Seasons there was the opportunity to meet with representatives from hotels and visitor attractions which highlight the unique nature of a trip to Ireland emphasizing the range of high quality accommodations, things to do, value for money and ease of access with Aer Lingus offering non stop service from both Los Angeles and San Francisco to Dublin. Some emphasis has also been placed on featuring experiences during the shoulder and off season months.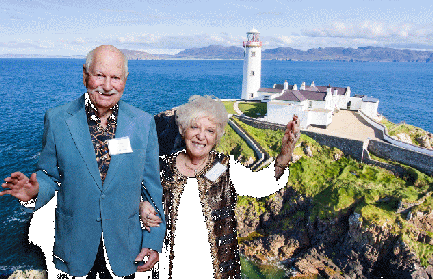 The event got off to a quick start with some entertainment from a most talented Irish dancer and three musicians skilled in local music and played with traditional Irish instruments.
Then local representatives came aboard to talk about the Wild Atlantic Way: the Causeway Coastal Route and cities of Cork and Waterford. Also about upcoming events like Galway 2020, a new culinary festival, "Taste The Island", as well as a look at Ireland's Ancient East and Dublin.
Videos accompanied some of these discussions and the ones of the Causeway Coastal Route were most impressive as it hugs the cliffs towering above the North Atlantic ocean. Photos of classic hotels like Portmarnock Hotel and Golf Links and Clontarf Castle Hotel proved most enticing.
The evening concluded with a buffet dinner featuring classic Irish dishes and beverages.
'Tis was a fine evening to be sure'.
Back to Table of Contents..

Last Update:11/22/19
&copy 2019 Joe Hilbers All Rights Reserved.
Graphic Design by Impact Graphics