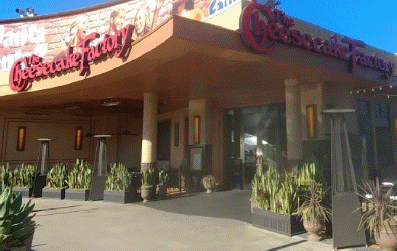 Santa Monica--The Cheesecake Factory delights with an original, exciting menu
.. By Joe Hilbers
It would be hard to select a more idyllic location for a unique dining experience than the one we enjoyed recently. Perched on the outdoor patio three stories above downtown Santa Monica overlooking the City's famed Third Street Walk we were the guests of Donald Moore, Executive Vice President & Chief Culinary Officer for The Cheesecake Factory.
This was a Media event designed to highlight items on a menu that is offered at some 203 locations in the U.S. with Donald there to personally describe how dishes are customized and created to show all the fresh ingredients.
Located on the third level of the Third Street Mall this Cheesecake Factory is a very large restaurant, complete with bar and lounge, an exhibition kitchen and the picturesque open patio where our tastings were served.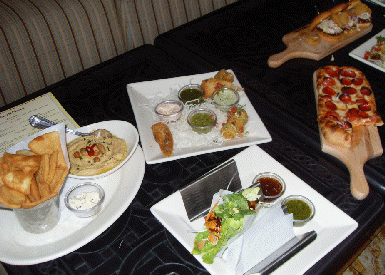 Four unique cocktails opened the proceedings including a raspberry infused Vodka, a Guava Daiquiri, Rum Mojito and Whisky & Ginger. Next appeared a table with appetizers such as a pork belly slider, which proved to be our favorite. But also a Hummus with warm Pita chips, an Asian chicken lettuce wrap tacos and an Eggroll sampler which included Avocado, Tex Mex, and chicken Taquitos. These we selected and tasted in a casual setting while Chef Moore described the lengths the staff will go to find and select true flavored avocados as well as techniques to give tomatoes the desirable taste.
Next to arrive were 'Small Plates & Snacks" which included a beet and avocado salad, Avocado Toast with marinated tomato and red onion, a plant based burger and crispy fried chicken sandwich.
Our tables each seated four and for the Menu Specialties that next arrived were served at each table family style. We quickly noted the Pan seared Branzino with lemon butter. This Mediterranean fish is one of our favorites and we noted the delicate texture of the sauteed fish and lemon sauce. The Cajun Jambalaya Pasta came with shrimp and chicken sauteed with onions and peppers and a very spicy Cajun sauce. Warned that it was indeed spicy we had to pass on this.
However the Chicken Madeira proved to be one of our favorites and learned that it is indeed the restaurant's most popular chicken dish. It was a moist chicken breast covered with fresh mushroom madeira sauce and melted Mozzarella cheese. Then arrived the grilled steak tacos with soft corn tortillas, charbroiled steak with a Chipotle sauce and served with rice and beans.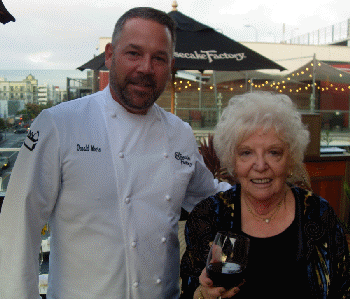 By this time this Writer was reduced to just tasting such offerings as the Mediterranean grilled chicken.
After all Chef Moore had already warned us that, still to arrive, was our personal selection of more than 30 legendary flavors of Cheesecake. Naturally we ordered one that included chocolate, and tasted my dining partner's pineapple cheesecake, as well.
Donald Moore has had a remarkable career with Cheesecake Factory. Starting ten years ago as a kitchen manager at the Cheesecake Restaurant in Westbury. N.Y., within two years he rose to Executive Kitchen Manager and two years later, Area Kitchen Operations Manager where he oversaw nine restaurants in Northern California. Two more promotions placed him where he is today as Executive Vice President and Chief Culinary Officer based at Corporate headquarters in Southern California.
Back to Table of Contents..

Last Update:10/2/19
&copy 2019 Joe Hilbers All Rights Reserved.
Graphic Design by Impact Graphics