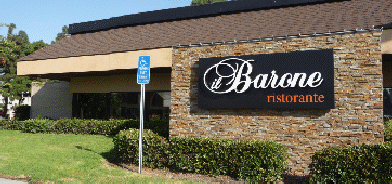 "Newport Beach--Il Barone stands tall in the Southern California restaurant scene
.. By Ronnie Greenberg
Rescuing an abandoned Coco's Restaurant, Franco and Donatella Barone turned the sprawling building on the corner of Bristol Street North in Newport Beach into their magnificent 5 Star dream.
Coming from Sicily as young children, they both brought with them the love of food, cooking and recipes from both their mother's kitchens. In addition to their award winning cuisine, excellent service and a unique atmosphere steeped in tradition, along with their son who works with them, they sent for their niece and nephew from Italy who radiates the same love as they do for Il Barone. They also brought their unending energy literally "to the plate!"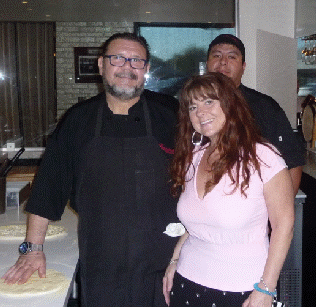 A warm contemporary ambiance, and a gracious staff bid you welcome to the culinary adventure that lies ahead. Enter into an elegant dining room fully renovated and recreated with a well stocked bar and cozy lounge serving sophisticated drinks in a contemporary setting, a peek in kitchen, curing room, and a brick pizza oven that was brought in from Italy.
Of course families are welcome, and power lunches happen here, but romantic dining beckons with candle-lit tables covered with fine white linen cloths with designer brown napkins decoratively placed in sparkling stemware.
Chef Franco continues to dazzle with his harmonious combination of creating Italian specialties steeped in tradition, and blending local produce and new ingredients to create surprising new tastes. In addition to making his own pasta, his fresh approach to signature dishes has flavors that just sing in your mouth. His devoted lovely wife Donatella is by his side making sure that everything works out just right.
Both Chef Franco and Donatella have been singled out for awards by the Southern California Restaurant Writers. Franco Barone as Chef of the Year and Donatella as Manager of the Year for a South Coast Plaza restaurant.
For openers enjoy the Carpaccio Di Manzo thinly sliced cured beef tenderloin, olive oil, lemon, capers, arugula, shaved Parmigano cheese; Carpaccio Di Pesce Misto, mosaic of salmon, seabass, shrimps, scallops, lobster topped with baby greens, lemon and olive oil; Calamari Frtti, fried calamari served with a side of spicy tomato sauce; or Grigliata Di Polipo E Seppie , Spanish octopus, cuttlefish,diced potatoes, tomatoes, arugula, oregano, extra virgin olive oil and lemon.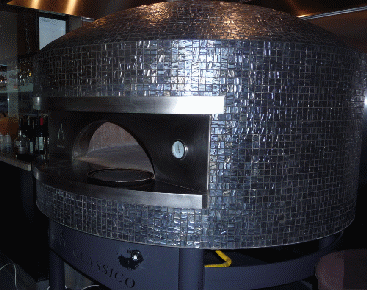 Be amazed at the brick oven Roman style pizza made as it once was, and includes Wild Faccia Ri Veccia; Bruscheta Del Giorno; Margherita; Calabrese Con Salsiccia; or Verdure.
Head on to the Primi with savory pasta made in-house and cooked to order Al Dente. Other dishes brimming with imagination are: Tagloline con funghi E Salsiccia, Sicilian ragu sausage, mixed imported mushrooms, fresh tomato sauce; Spaghetti Alla Carbonara, smoked pancetta ,farm fresh egg yolk, shallots, cream, Parmigiano reggiano; Linguine Gamberi Ricci Di Mare E Bottarga, sea urchin, chopped shrimps, shaved bottarga , garlic, basil, red, yellow tomatoes, white wine; Gnocchi Alla Sorrentina, soft potato dumplings, San Marzano tomatoe sauce mozzarella cheese.
*Gluten free pasta is available and Specialty Fresh Seafood and Dry Aged Meats are offered daily.
Wind down your culinary adventure with a rich choice of dessert featuring the mouthwatering Cannoli or their signature Limoncello Tiramisu with shaved white chocolate.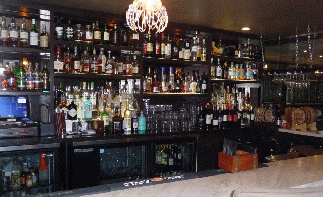 A fantastic selection of wines are available by the glass or bottle and Catering is also available and very popular.
Il Barone Restorante is located at 900 Bristol North, Newport Beach with free off street parking. The restaurant is open for luncheon Monday thru Friday from 11 a.m.to 2 p.m., dinner from 5 p.m. to 9 p.m.. Saturday dinner only and closed Sundays. For reservations, often a must, call 949 955-2755.
Other locations include the Barone Bottega & Italian Deli for delicious sandwiches on freshly baked bread and one of a kind salads, and drinks. Call for menu and directions (949) 536-1040.
Back to Table of Contents..

Last Update:10/20/19
&copy 2019 Joe Hilbers All Rights Reserved.
Graphic Design by Impact Graphics