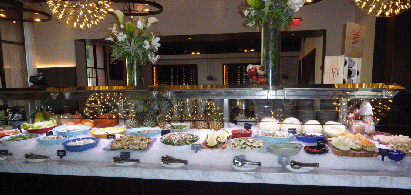 "Beverly Hills--Fogo de Chao keeps increasing its dining experience with new cocktails and menu additions."

by Joe Hilbers, Editor
Dining is one of the easy ways to explore different cultures and cusines. And no one carries the banner of Brazilian cuisine better than Fogo de Chao restaurants. Founded in 1979 in Brazil there are now 52 locations in Brazil, the U.S., Mexico and the Middle East. Always innovative the restaurants recently introduced a new Fall menu. So we were off once again to experience this for ourselves at the Beverly Hills location.
First stop was the bar and lounge and the Happy Hour menu of cocktails and exciting appitetizers. Featured cocktail is Caipirosca which includes Tito's Vodka, lime and stick of sugar cane. Also Brazilian Gentleman made with Knob Creek Rye Bourbon, blended with passion fruit puree, gujm syrup, lemon juice, honey and dash of Ramos Pinto Tawny Port.
Added to the menu items were two new salads, one Butternut Kale and the second Pear and Endive with a citrus-honey vinaigrette as well as roasted sweet potatoes.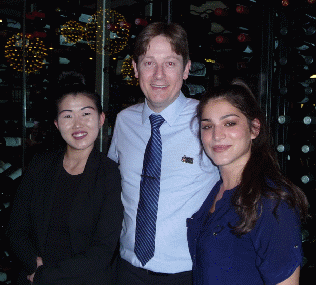 We had the opportunity to discuss the new menu items with Sevenir Girardi, general manager and told him with thought the lavish Feyoada buffet looked even more enticing. P>Of much interest to this Writer was a new wine from Chilean winemakers, Vina Vik. Named Eulila it is a red wine blend of Carmenere, Cabernet Sauvignon and Syrah. The name is a tribute to Eulila "Selma" Oliveira, Chief Culture Officer of Fogo de Chao. We thought the wine very much of premium quality with smooth velvet like flavors and a pleasing finish.
We also had to try the new dessert which comes from a traditional Brazilian Recipe. It is Creme de Coconut which features shredded coconut baked with condensed milk and cream, then served warm with ice cream.
Always available is the huge self serving table of meats, appetizers, salads and an infinite number of specialties. And those favorite meats such as the Cowboy Ribeye or dry-aged steak including New York Strip and Tomahawk Ribeye. Picanha, the prime part of top sirloin still proved to be one of our favorites, carved medium rare.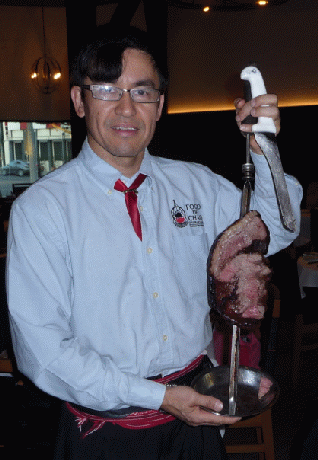 Of course all of this was served as usual by the well trained service staff with the churrasco carved tableside by gaucho chefs.
Fogo de Chao offers a unique culinary adventure at its restaurants, with everything on the menu offered in abundance. We especially enjoy the Beverly Hills location with its most convenient valet parking that leaves one at the front door.,
In Beverly Hills Fogo de Chao is located at 133 N. La Cienga Blvd. open for lunch and dinner daily. On weekends there is a mid day brunch. Tele. 301 289-7755.
Back to Table of Contents..
Last Update:10/21/19
&copy 2019 Joe Hilbers All Rights Reserved.
Graphic Design by Impact Graphics