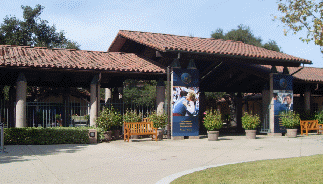 Simi Valley--"'Egypt's Lost Cities' Exhibition at Reagan Library shows treasures of ancient past"
.. By Joe Hilbers
Since opening in 1991 the Ronald Reagan Presidential Library and Museum has had five million visitors. The Museum besides chronicling the events of the Reagan presidency often hosts special exhibitions.
Currently an exhibition entitled "Egypt's Lost Cities" takes one back almost two thousand years as it puts on display recently discovered statues and artifacts that for centuries were hidden beneath the waters of the Nile Delta and Bay of Aboukir. Also well told is how these remarkable treasures of an ancient civilization were discovered and recovered.
This thanks to the dedicated man named Franck Goddio, a French mathematician who became an underwater archeologist a decade ago. When Goddio started diving in the area he soon found himself face to face with remarkable well preserved statues and artifacts of a long forgotten thriving civilization. At the Reagan Exhibition viewers begin by looking at a screen showing Franck Goddio as he discovered some of these treasures and recovered them for showing in today's world. Then follow into a room with two of the tallest statues ever recovered from ancient Egypt. Two sixteen foot statues of Ptolemaic King and Queen, both carved from solid granite. Many of the artifacts and statues date back to 300 B.C..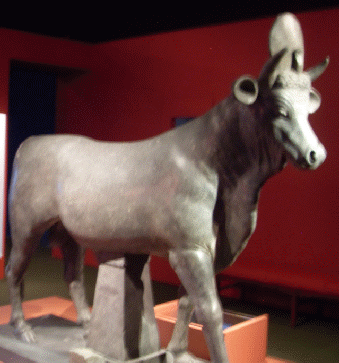 This exhibition presents as fascinating look at two ancient cities that were lost to natural disasters and the rising tides of the Mediterranean Sea. What Franck Goddio and his team has discovered and recovered shows a greater understanding of life during the age of the Pharaohs. The current Reagan exhibition displays 200 of these authentic artifacts, some showing the pots and vessels of everyday life. These vessels made of bronze are remarkable in that their basic design still exists in similar containers today.
Other statues to be seen include Bull God Apis, God Hapy and a priest holding the god Osuis-Canopus.
The two forgotten cities that remained hidden underwater for centuries were Thonis-Heracleion and Canopus. Some of the recovered writing shows influence of Greek and Roman cultures that influenced Egypt through later centuries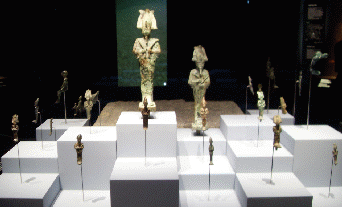 The Ronald Reagan Presidential Library and Museum is one of Southern California's premiere attractions. We had been to the Library in past years but our recent visit showed additions and vast improvements that have been made.
Location alone is always a special treat as it has been built on top of a mountain with commanding views in every direction including the Pacific Ocean. On this visit we made it a full day's outing with time out for lunch at Reagan's Country Cafe which also includes a Ronald Reagan Pub.
Twenty four galleries tell the story of Ronald Reagan's life before the Presidency and much of the personal relationship of he and his wife, Nancy. With her death she now is buried next to her husband at the Library. We always enjoy looking at the perfect replica of the Oval Office at the White House and the place of business for so many presidents.
The Reagan Library follows the tradition of established Presidential libraries first started by Franklin D. Roosevelt and has continued with every president since then. California has a second Presidential Library for Richard Nixon located in Loma Linda
The Ronald Reagan Presidential Library and Museum is located at 40 Presidential Drive, Simi Valley, Ca. Phone 1 805 577-4000. It is open daily from 10 a.m. to 5 p.m. web www.reaganlibrary.gov. There is an admission fee for visits to the galleries and exhibitions.
Back to Table of Contents..

Last Update:10/20/19
&copy 2019 Joe Hilbers All Rights Reserved.
Graphic Design by Impact Graphics