Napa Valley--Wine tourng stll a delightful way to spend a day
.. By Dan Ehrler
What a difference a day makes! We only had one day in Napa Valley during our stay in Northern California and wanted to make the most of it. While there, we enveloped ourselves in the beauty of the vineyards, relished the taste of the award winning wines and walked away with a tremendous education.
With around 140 wineries in Napa Valley in 2000, they now boast over 200 wineries today. Some are no longer in business, while many new wineries are in production.
We began our day with a big breakfast and selected Butter Cream Bakery, where the locals go. Every goody you can think of was displayed in a large case. The scrumptious pastries can be eaten there or to go. We began our morning feast by ordering from the full breakfast menu, and it was great! With delicious food under our belts, we were ready to travel.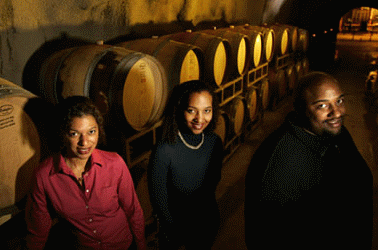 We took winding back roads through Napa Valley to St Helena and arrived at the Brown Estate on a beautiful winter day. In 1980, Dr. and Mrs. Brown purchased the 450 acre estate and were told their property was not suitable for farming grapes nor had ever been planted with grapes. Did they ever prove those nay sayers wrong!
The Browns planted 50 acres in 5 blocks, with each block being specifically suited to its own varietal. The wines are aged in a cave which leads into the 1885 Barn that has been completely restored to its original grandeur. The Tasting Room is beautifully housed in the Barn. The First Chiles Valley Block Zin delivers a rich, intense peppery-spicy flavor. Rosemary's Block provides a Zin that is a delectable balance to the high-definition fruit. The zingy acidity always stands out. Dark berry and black cherry characteristics soar in Mickey's Block Zinfandel. The land in the Westside Block offers a fruit balance between ripeness and structure. Like children, Brown Estate produces intense Zinfandels that are very different, but each displays its own unique flavor. Who said "You cannot live with Zin alone" has never savored Brown Estate Zinfandels! Equally intense wines include the Brown Estate Chos Theory which is a masterful blend of three varietals. And their crisp Burgundian-style Chardonnay makes is genuinely a jewel of flavors! Cabernet Sauvignon, Petite Sirah and Tempranillo are also planted, and they all are equally exceptional wines.
You can find Brown Estate Wines in top restaurants, such as the French Laundry, and has also been served at the White House. Yes! THAT White House!!!
Continuing our Napa Valley visit, we stopped at Grgich Hills Estate, where we delighted in tasting elegant wines that Grgich is so famous for. Grgich Chardonnay still stands up to its celebrated win at the renowned 1976 "Paris Tasting" as the Best Chardonnay in a blind tasting.
Locals recommend the Goose & Gander Restaurant in St Helena for lunch, and what a great recommendation! Chef Kelly McCown created an amazing rustic seasonally American menu that perfectly compliments wine from their unique Wine List. The patio and lawn are surrounded by vines and vibrant colored flowers provide the perfect setting for truly exceptional fare and a memorable experience.
Our next visit was also very special, and we could not contain our excitement as we headed to Castello di Amorosa in Calistoga. Castello di Amorosa is the only 13th century authentic medieval Italian Tuscan Castle and winery in the United States. And how magnificent it is to have this architectural wonder in our own backyard!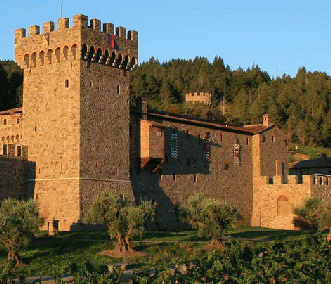 To honor his Italian heritage, Dario Sattui traveled to Italy, and other European countries, to do extensive research on Italian and other medieval castles and wineries to insure his Castle's authenticity. Dario purchased 171 acres in Napa Valley and construction began in 1994. Upon completion, the draw bridge was lowered over the moat, and the Castle opened in 2007. Many of the Castle's medieval features were shipped from Europe. Castello di Amorosa is 8 stories with 107 rooms and 121,000 square feet. Most of the rooms are dedicated to their award winning wines, but other rooms include a colossal Great Hall, dungeon, torture chamber and medieval church surrounding a large center Courtyard so reminiscent of the medieval castles of yore.
Around the Castello is 30 acres of Merlot, Sangiovese and Cabernet Sauvignon. Italian-style Pinot Grigio, Pinot Bianco and a Super Tuscan Blend are also produced. With 15,000 cases produced, the wines are sold ONLY in the Tasting Rooms.
This is a Must See & Visit! Go on a tour of Castello di Amorosa followed by a tasting of award winning wines. This one-of-a-kind experience is only in Napa Valley.
Dario Sattui's grandfather, Vittorio Sattui, established V Sattui Winery in 1885 in San Francisco. The Sattui family opened the V Sattui Winery in St. Helena Winery in 1976, and it has always been a favorite of ours. Only selling their wines at the winery and on line, their pastoral picnic grounds at the winery offer the perfect spot to savor their remarkable wines.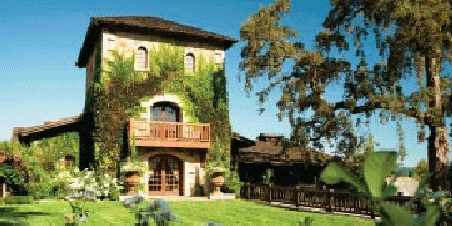 We experienced the Bounty of Napa Valley and look forward to returning to experience the other 200 wineries.
Back to Table of Contents..

Last Update:6/1/14
&copy 2014 Joe Hilbers All Rights Reserved.
Graphic Design by Impact Graphics