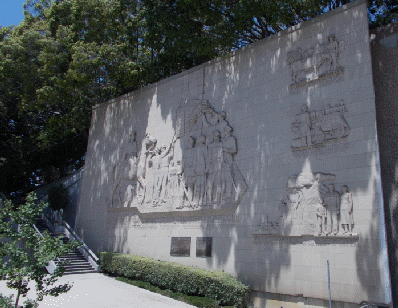 "Los Angeles--There is a connection between a downtown monument and my family

by Joe Hilbers, Editor
In downtown Los Angeles the largest Bas-Relief military monument in the U.S. is to be found. It is located on Hill Street just north of its overpass of the Hollywood Freeway and at the site of Fort Moore.
Fort Moore was built during the Mexican-American war in 1847 by members of the Mormon Battalion and U.S 1st Dragoons.
The Mormon Battalion is the only one religion formation that has ever existed in the U.S. Army and made the Army's longest march, eleven hundred miles from Council Bluffs, Iowa to San Diego in 1846-47
A few days ago this Writer visited the site and took photos of the stone Relief that depicts the dedication of the Fort on July 4, 1847. The Bas-Relief as seen today was dedicated in 1957.
My interest in the Mormon Battalion began when I visited and wrote about the Mormon Battalion Museum located in Old Town San Diego. And later when I saw parts of the trail they built and used in what is now Anza Borrego State Park. Also I was at Yuma Crossing recently where the Battalion forded the Colorado River.
But only a few weeks ago I learned that one of the soldiers in that Battalion is the great, great, great grandfather of my two sons. This family history is from their Mother's side of the family.
Meltiar Hatch was 21 years old when he joined the newly formed Battalion of five hundred men. With him was his younger brother, Orin, age 16. He was leaving behind his family and his wife of six months, Permelia. In the Battallion he was in Company C.
Before the Battalion was discharged in San Diego two years later many of the men were put to work building Fort Moore in Los Angeles. After this Meltiar Hatch went first to Utah and then east to bring his father and mother, wife and the rest of the family to Utah as well. And descendents of the family have remained there to the present. For some years there was a small settlement in Utah called Hatch.
Despite being in the heart of Los Angeles the Monument is a rather peaceful place where one can enjoy tranquility while studying its message.
One very famous name is connected with Fort Moore. In 1848 its garrison was recalled from the Fort by a Lieutenant named William T. Sherman.
Back to Table of Contents..
Last Update:6/22/14
&copy 2014 Joe Hilbers All Rights Reserved.
Graphic Design by Impact Graphics