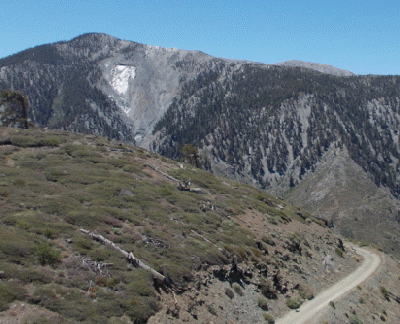 "Wrightwood--Blue Ridge offers great views of the San Gabriel Mountains"

By The Editor
.
Short of hiking to the top of one of San Gabriel's peaks the best views of the full range can be seen from Blue Ridge which traverses the east rim. It is a view that this Writer has never tired of through several decades in every season of the year. It offers easy access since
Highway 2 climbs from Wrightwood to its crest and follows it for some distance before moving west toward Vincent Gap. Since Holiday Hill Ski Resort is located on Blue Ridge the views are assessable during the winter as well as other seasons.
From Inspiration point where Highway 2 crests the ridge there is an unimproved road that follows the crest for some miles past the ski runs, a campground then following the ridge to a second campground called Guffy. Also from Inspiration Point there is a fine view of the peaks as well as San Gabriel Canyon, far below, whic h divides the range.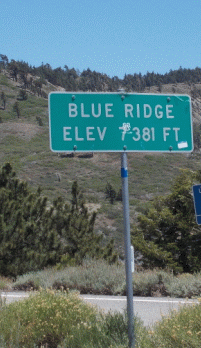 Guffy Campground is one of our favorites in the San Gabriel Range since it sits on a nose of Blue Ridge offering wondrous views in every direction. The Pacific Coast Trail, that extends from the borders of Mexico to Canada passes through here. Far below sits the community of Wrightwood and in the far distance the far reaches of Antelope Valley.
On the opposite side Pine Mountain towers above showing a remarkable huge cliff of bare hard rock. And still higher the upper rims of Mt. Baldy. Move a few steps further and there is Iron Mountain, equally impressive. Far below the outline of San Gabriel canyon. Across from that canyon a full line of mountains dominated by Mount Baden Powell.
The others in that line, all trod by this Writer at some time, have names like Mt. Burnham, Throop Peak, Mt. Hawkins and Mt. Islip.
Recently once again we made our way to Guffy Campground, walked over a small section of the Pacific Crest Trail and took many photos on a perfect late Spring day. We had a lavish picnic lunch with us and looked, and looked some more at the scenery that spread out before us. On this day I could not think of a single place I would rather be than here.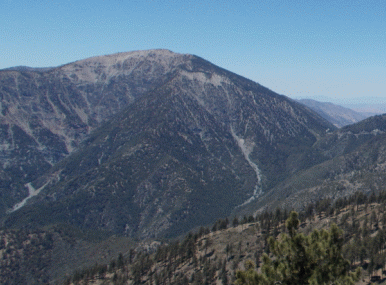 Back to Table of Contents..
Last Update:6/25/14
&copy 2014 Joe Hilbers All Rights Reserved.
Graphic Design by Impact Graphics