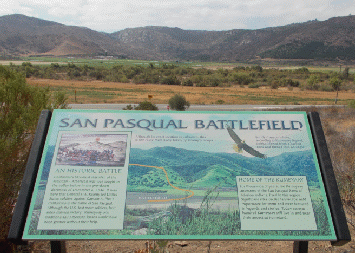 "San Diego County--San Pasqual Battlefield State Park has a story to be told
Once again our explorations in San Diego back country yielded a great find. It is the San Pasqual Battlefield State Historical Park. It is located on Highway 78 south of Escondido.
Our good fortune continued when we met Gilbert Garcia, one of the administrators of the Museum on the property. He had much information to tell us about the museum and events that took place there.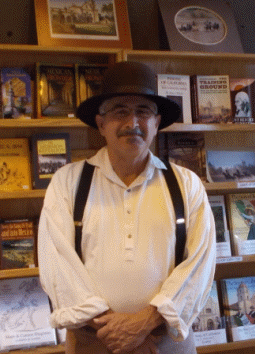 It all took place on December 6, 1846 when General Stephen Kearny was leading a force of the U.S. Army from Missouri to San Diego. This force of approximately 120 men was intercepted by a smaller force of Californios led by General Andres Pico. In this battle the Americans, worn out from their long trek across the deserts of New Mexico and Arizona, were defeated by the Mexicans. With superior horses, the Americans were mostly mounted on mules, the Californios used their horsemanship and lances with deadly effect. The Americans suffered 35 dead and wounded and became besieged on Mule Hill.
Only the courage and wilderness skills of Kit Carson and Army Lieutenant Edward Beale saved them from total disaster. Slipping out at night they skillfully evaded Mexican sentries.
They made their way to San Diego Bay and signaled U. S. Navy ships moored in the harbor. Navy Commodore Robert Stockton then mounted a force to save those under siege on Mule Hill. Later the combined American force went on to win the battle of San Gabriel on January 8 and 9, 1847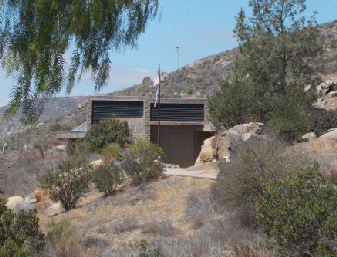 All of this is well told with exhibits at the museum. There are also excellent exhibits showing the life of the local San Pasqual Indians who had made the region home for many centuries. It also tells how these lands were lost, first to the Mexicans and then American settlers. We viewed a most informative video on how the war with Mexico started when president Polk adopted a policy of making all the lands to the Pacific as parts of the United States, first by adding Texas to the Union. Many of the U.S. soldiers who were in this war became famous generals on both sides during the Civil War including Lee, Grant, Picket, Longstreet and Meade.
Today San Pasqual Historic Park offers exhibits and programs at its Visitor Center. The park also offers hiking and nature trails as well as a picnic area with tables, rest rooms and drinking water. Every December volunteers perform a reenactment of the Battle of San Pasqual. Living history days are scheduled this year on October 5 and November 2 and the battle reenactment on November 3. The Living History days event include a cannon crew presentation at 11:30 a.m. and 1:30 p.m.
The Park and Visitor Center is only open on weekends. The address is 15808 San Pasqual Road, Escondido. Weekend hours are from 10 a.m. to 5 p.m. Call 760 737-2201 for more information and on the web at www.parks,ca.gov/
Back to Table of Contents..
Last Update:8/1/14
&copy 2014 Joe Hilbers All Rights Reserved.
Graphic Design by Impact Graphics