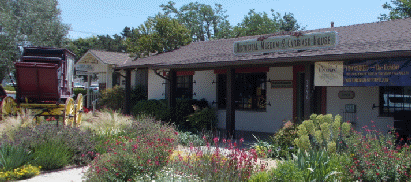 ---
Santa Ynez--A wonderful museum here displays how vines and wines have changed the Valley By Joe Hilbers
A museum with a wine exhibition was a perfect fit for this Writer and Vittles. We learned about it quite accidently while browsing through Lucas and Lewellen Winery's news bulletin which mentioned the opening of a wine exhibit at Santa Ynez Valley Historical Society Museum & Carriage House.
Soon we were in contact with Chris Bashforth, Museum Director, and arranged a meeting. Santa Ynez and the valley its named after are picturesque and seemingly by magic moves you to a completely different California, one of quiet lanes and early beginnings.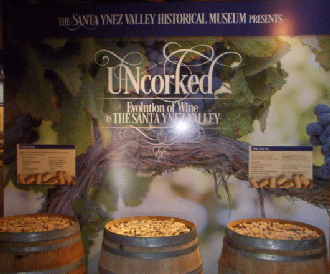 We thought the Museum a real treasure and offers much besides the newly opened exhibition displaying how vineyards and wineries have grown in the Santa Ynez Valley and Santa Barbara County. The exhibit is called "Uncorked--Evolution of Wine in the Santa Ynez Valley" and tells how in a half century it has achieved fame for the quality of the vineyards and wines they produce.
This exhibit tells the story of how each of the first wineries were established and the wines they have produced. For this Writer it was a trip down memory lane since as a member of the Southern California Wine Writers Forum, as a group we had toured many of these wineries in their early years. These included Zaca Mesa, Sanford, Rancho Sisquoc, Firestone, Byron and Lucas & Lewellen.
The planting of grapes in the region goes back to the late 1700s when Padre Junipero Serra, founder of the first nine California missions, brought the first European vines to the New World. A new beginning started in 1964 when a few vineyards were planted with the first wines produced in the 1970s. The exhibit explains all this and shows how, from this modest start, Santa Barbara County now has five appellations, Santa Maria, Santa Ynez, Santa Rita, Happy Canyon and Ballard Canyon.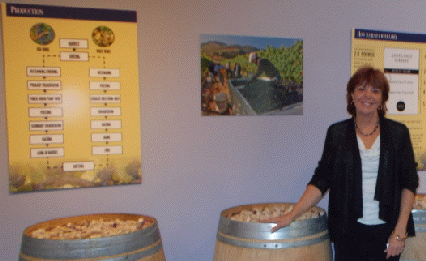 Numbers tell the story of the growth, from 6500 acres of vineyards in 1975 to 16,600 in 2013. Another chart shows the number of varietals planted and the percentage of each in total production. A second room of the museum is devoted to showing the production of wine from harvesting the grapes, crushing, fermentation and aging in barrels.
This Evolution of Wine exhibit is of interest to all ages but this museum has much more to offer. We met with Chris Bashforth who told us how the museum was started in 1961 by a few devoted local citizens who wished to preserve the history of the region. Chris has been director for ten years and brings to her position a background in marketing and event planning.
An exhibit children love depicts the building of the railroad in Santa Ynez Valley and miniatures of the Los Olives Depot and model trains that run through the countryside. It repreesents the Pacific Coast Railroad which came to Los Olives and the Valley in the late 1800s. Like everywhere in the west the coming of the railroad ignited both commerce and development.
Another exhibit tells how the major Valley towns developed. Ballard in 1881, Santa Ynez in 1882, Los Olivos in 1887, Solvang in 1911 and Buelton in 1920.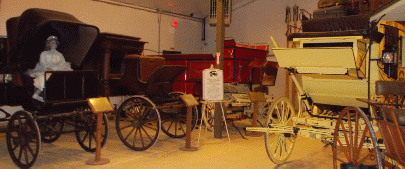 The Carriage House is a story in itself with the largest and most complete set of vehicles depending on horse power that we have ever seen in any museum. The Carriage House is an auditorium sized building that, besides displaying these horse drawn wagons, is used for special events with up to one hundred and fifty people. The array of vehicles include stage coaches, buggies, freight wagons, farm wagons, tour busses, and even a hearse.
Santa Ynez Valley Historical Society Museum & Carriage House is located at 3596 Sagunto Street, Santa Ynez 93460, telephone 805 688-7889. web www.santaynezmuseum.org. The Museum is open Wednesday thru Sunday from Noon to 4 p.m. Adults $4, children under 16 free.
---

Back to Table of Contents..
Last Update:5/15/14
&copy 2014 Joe Hilbers All Rights Reserved.
Graphic Design by Impact Graphics