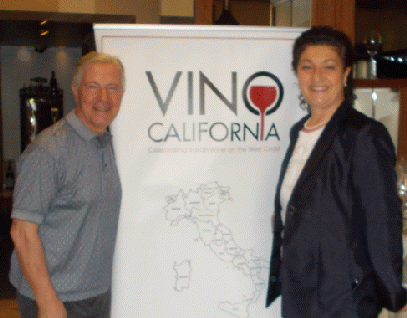 Santa Monica--Vino California Grand Tasting showed exciting Italian wines
.. By The Editor
For people who are always seeking the new and different we would like to recommend wine. Here there is always a new winery and a new varietal to explore. Which makes tastings that feature wines from other places in the world so attractive to this Writer.
Most recently we attended Vino California Grand Tasting featuring wines from some of Italy's many regions, some well known others less so. We are always interested in tasting and learning about new varietals and the regions where they are popular.
We started with Le Corti Del Farfensi, a family winery located on Italy's Adriatic coast at Le Marche The name of the winery comes from some local history. In 890 AD Benedictine monks of Farfa Abbey had to flee from Saracen invaders and so settled in this region. The monks played a major role in developing vineyards in the region for many centuries.
We learned about two white varietals, Passerina and Pecorino, local to the region. Among the reds there was Montepulciano, a varietal we were familiar with as well as Black Vernaccia which was new to us.
Valpolicella is both the name of a Valley as well as the famous wine produced there. It has its own DOC appellation The Aldegheri family has been growing grapes and making wine there since 1956. In their wines they use three indigenous varietals, Colrvina, Rondinella, and Molinara. In a classic red Valpolicella the grapes are Clorvina and Rondinella.
There is also a famous sweet wine in the region that can be traced back to the fourth century AD. It is Recioto which is naturally sweet and is harvested (semi-withering), a classic process that again dates back centuries.
Prosecco is the most popular sparkling wine in Italy and the product of a single grape variety but Italian sparklers are being created from many different native varietals, both white and red, in almost every region of the country.
LA. Montina Franciacorta is producing classic metodo classico (champagne styled sparkling wines) using traditional varietals. For the whites, Chardonnay and Pinot Bianco and Pinot Noir for the red. We thought the sparklers most elegant.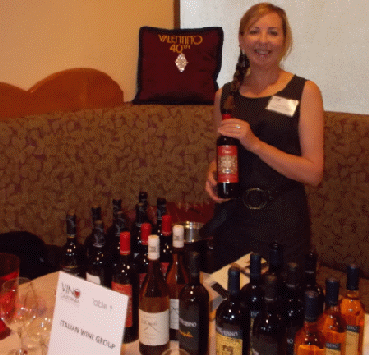 The event took place at Valentino in Santa Monica which is celebrating its 40th year as a five star restaurant. We chatted with Owner Piero Selvaggio and then gave our full attention to the elegant buffet of Italian specialties that was presented to go with the wines.
The Vino California Grand Tasting was coordinated by the Italian American Chamber of Commerce West and the Italian Government Tourist Board in Los Angeles.
Back to Table of Contents..

Last Update:5/21/14
&copy 2014 Joe Hilbers All Rights Reserved.
Graphic Design by Impact Graphics