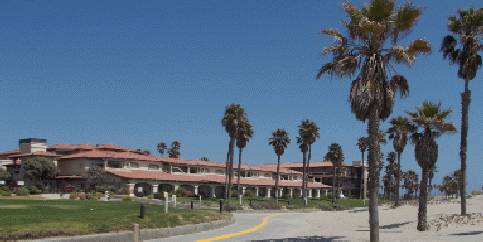 "Oxnard--This City offers great opportunities for beach and seaside advenrtures"

by the Editor
"Life is a Beach", this four word expression, often found imprinted on Tee shirts, has different meanings for different people. For this Writer it brings visions of wide sandy beaches, glistening white topped waves and an ocean sparkling in sunlight.
These deep, profound concepts with perhaps a philosophic bent were this Writer's as he lounged in his suite with a view of all of the above. Except for the murmur of the surf and the chirping of birds all was quiet and serene.
All of this took place at the Mandalay Beach Hotel Resort, a showplace property of Embassy Suites Hotels. This was our second visit to this unique beach side hotel and since our previous visit a complete renovation has taken place. Actually the fact was that we could not find anythink to dislike on that first visit.
The location was Oxnard but the view from our patio could be at a Caribbean isle, Hawaii, Australia or the South Seas. The pluses here are the cool ocean breezes with relatively low humidity, no bugs and no baking hot days. A hotel brochure called it Suite Paradise and we could only agree. Our suite, with living room sofa and chairs, included a sliding glass door and a single step to patio with table and chairs. And if you are inclined to wander further there is the sandy beach graced with palm trees only yards away.
This room also has a large desk, a wet bar, refrigerator, micro wave, TV and bathroom. Adjoining is the bedroom with king sized bed, another TV, its own picture window overlooking the above described scene, and another complete bathroom.
For this Writer all of this came without a trip to a doctor for shots to ward off tropical diseases, no hassles with air lines and scheduled layovers, and no worries about the water, sanitation, food safety or unruly natives. I was exactly one hour away from home with my car neatly tucked away in the underground garage beneath me.
Oh Wait, there has been a disaster of sorts. The kite being flown by a chap on the beach just did a Charlie Brown dive and crashed. To recover from this numbing experience we fled our room and strolled to the Hotel's Coastal Bar & Grill and ordered a bracing cocktail from a personable, friendly bartender named Dustin M. After introduction and revealing my checkered career with alcohol beverages we got into a discussion about new and traditional cocktails, which were popular, then and now, and what had almost disappeared.
Old Fashions, once so popular with this Writer and his cohorts, is now only ordered occasionally. Manhattans have taken on new life with a younger generation. Harvey Wallbangers. once popular at the beach, have slipped off the chart, only remembered by old guys like me.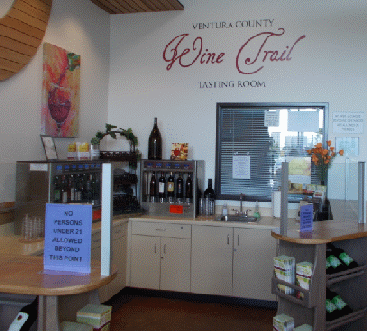 Actually we were in Oxnard to explore some of the expansion that has taken place and revisit some favored locales. First stop was to visit the newly relocated Welcome Center. It is now located at The Collection, the city's newest enclave of retail stores, restaurants and entertainment facilities.
The Oxnard Welcome Center is one of seventeen such centers spaced throughout California. It is unique in that it is the first to offer wine tastings from the local wineries of Ventura County. It is also the place to start if you want to explore the Ventura Wine Trail. This trail now includes sixteen wineries, most located in Oxnard, Camarillo, Ventura and nearby Ojai. Maps and other information about the Trail can be found at the Center.
We took part in the Center's unique tasting experience with choices of wines, white and red, from eight of the local wineries. We tasted Cantara 2011 Chardonnay and Magnavino 2012 blend of white varietals. Our reds were Herzog Special Reserve 2012 Cabernet Sauvignon and Rancho Ventavo Cellars 2009 red blend called 2009 Yes Dear.
The California Welcome Center is located at 2786 Seagrass Way, Oxnard, Telephone 805 385-7545.
Islands somehow excite people, creating all types of images in their minds. Island names are almost always preceded by some adjective. The Island is exotic, romantic, lush, barren, mysterious and so on. While the islands entitled Channel Islands National Park do not fit any of the above adjectives they are unique and offer exciting experiences.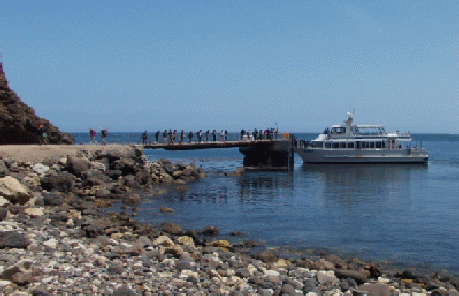 Our destination was Santa Cruz Island, the second in the chain which extends off the coast from Oxnard to Santa Barbara. We were issued a ticket by Island Packers who have been providing passenger service since 1969. And soon were aboard "Islander" a most comfortable Catamaran for our one hour trip to the Island.
Ours was a one day trip but the ship was also carrying many backpackers. Much excitement commenced even before we reached Santa Cruz. First we sighted pods of dolphins and the Captain hove to so all could watch these graceful creatures that seem to truly enjoy performing before an audience.
Then I sighted the sprout of a whale. I wanted to shout "Thar she blows" but the Captain was quicker and again slowed the ship. It was a group of gray whales moving around the ship seemingly in no hurry on their annual migration to the arctic. Now there was true pandemonium aboard as people rushed to the port side railing, not with harpoons but cameras.
Our landing at Scorpion Anchorage is one of only three places where a ship can bark and debark passengers. Much of the island has cliffs that drop directly to the ocean with no beach at all. The first European to see the Channel islands was Juan Cabrillo, the Spanish explorer sent to observe the lands north of Baja. He discovered San Diego Bay in 1542 and then sailed north as far as the Channel Islands. He died on this voyage and some believe he is buried on Santa Cruz Island.
As a visitor to the islands you carry what you want with you and carry it out as well. There are no facilities either for lodging or food. We had a box lunch made for us by Seafresh, an excellent Oxnard restaurant.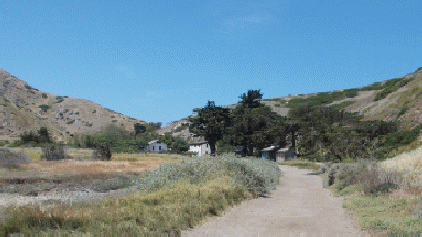 Scorpion Bay was originally a ranch and the buildings that survived are now used by the Park Service. Ashore day visitors take short hikes and there are picnic tables and rest rooms. The easiest trail takes one up the canyon to the first two campgrounds.
We were most fortunate to meet up with an Island Fox which is only found on the Channel Islands. These foxes are about the size of a house cat. We would have liked to interview him about life on the island but he was too busy. As we watched he sought goodies dropped by careless picnickers. Then good fortune came his way as he discovered two backpacks, unguarded, leaning against a tree. He then gave these his full attention and we, not wishing to disturb such industry, wished him good hunting and left.
Our stay on the island was about four and one half hours and we were back on the mainland at 5 o'clock. The island is 20 miles from Ventura and the ship generally takes an hour for the crossing. We were much pleased with how the day went. Our weather was sunshine but with some wind which increased in the afternoon but most comfortable for wandering the island.
The Channel Islands National Park Visitor Center is located at 1901 Spinnaker Drive. Ventura, Ca 93002, Telephone 805 658-5730.
For transportation to any of the five islands contact Island Packers, 1691 Spinnaker Drive, Ventura, Ca 93001. Telephone 805 642-1393.
It seemed to us that one of Oxnard's best kept secrets are its wide, open, sandy beaches that extend for miles with very few people. On our beach hike we saw an occasional jogger or dog walker and a biker or two but mostly it was a solitary hike with only the sea birds for company. The beach extends for miles and in places offers regular trails through the dunes. We marked this discovery as one to be exploited by us this summer during hot days in the San Fernando Valley.
We also checked out the Oxnard Beach Park on Harbor Drive which offers perfect access to the beach with ample parking facilities.
In the next issue of Vittles we will relate our dining experiences in Oxnard.
Back to Table of Contents..
Last Update:5/22/14
&copy 2014 Joe Hilbers All Rights Reserved.
Graphic Design by Impact Graphics