"Oxnard--Our dining included pleasant surprises
.
By The Editor
Our culinary adventures in Oxnard included some old favorites and some new, pleasant surprises. Our dining experience at Mandalay Beach Resort was certainly not a surprise since we already had experienced the kitchen skills of Executive Chef Time Hulbert at the Embassy Suites hotel's Coastal Grill. Oxnard is the center of a large agriculture region famous for its vegetables and fruits and Chef Hulbert takes full advantage of this in preparation of his appetizers and entrees.
First to arrive were a selection of southwest appetizers including Baja Spring rolls, Latin styled chicken wings, tamale stuffed tortilla rolls and Chicken Quesadilla. Our opener was a memorable Lobster Bisque. Our entree a New York Strip steak with roasted potatoes and grilled asparagus. Others at our table with enticing dishes like Linguini Primavera, roasted chicken on a bed of cous cous or Simply Fish. The fish in this entree varies with the season and availability of seafood direct from the nearby ocean.
Then we had the opportunity to preview of new presentation of desserts at the restaurant. Several different desserts are served in small size unique shaped glassware from a metal rack. These included Molten cake, Creme Brulee, Key lime pie, banana split and rockside Brownies. The small sizes enable the diner to sample more than one of these tempting sweets.
The Coastal Bar and Grill has a lively bar and lounge and the Grill features a full menu breakfast buffet including to order omelets which is complimentary for hotel guests. For locals who want to enjoy the talents of Chef Hulbert there are two hours of free parking.
Mandalay Beach Hotel Resort is located at 2101 Mandalay Beach Road, Oxnard. For reservations call 805 984-2500. On the web at www.embassymandalay.com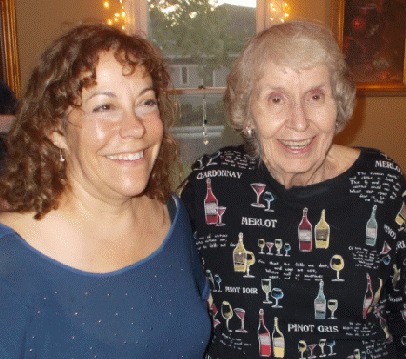 Michelle Kenny is a second generation restaurateur and I recall dining many years ago in two restaurants operated by her mother. One was at Channel Islands Harbor and the other at Port Hueneme. Michelle is chef and owner of the four star La Dolce Vita Restorante located in Oxnard's Heritage Square. The heritage house where the restaurant is located dates to 1901 and offers a serene, traditional ambiance.
We opened with a crispy fried calamari and savored it to the last bite. Our entree, port loin stuffed with gorgonzola cheese on top of a bed of roasted garlic mashed potatoes bathed in a port wine reduction. Our portion was more than generous and so took half home with us for further enjoyment later. Our wine was a Santa Barbara 2012 Rancho Soquoc Sauvignon Blanc.
You will find a large, selective menu here with daily specials and a lunch menu as well. At the bar lounge there is a tapas menu and live entertainment Thursday through Saturday. There is also a daily Happy Hour.
La Dolce Vita is located at 740 South B Street in Heritage Square, downtown Oxnard. For more information call 805 486-6878, web www.theldv.com.
Italian cuisine was in control this evening so as part of a progressive dinner we sought our desserts at The Italian Job Cafe. This was new to us and General Manager Susan Smith soon had us convinced that this restaurant features genuine, authentic Italian fare. The Cafe has a long history and is located at Channel Islands Harbor with spacious indoor and patio seating.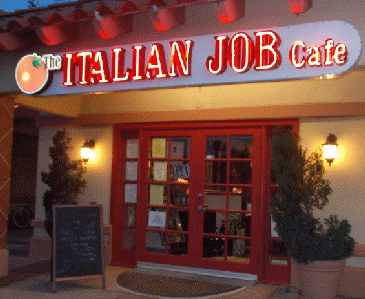 This was our last stop on this evening's dining tour which meant that we would be tasting desserts, all Italian and all made on premises. The array of sweets that soon appeared before us were served family style and included Tustin pie, Tarts, Mousse cake, and puff pastries stuffed with vanilla and chocolate cream. There was also Gellato and Sorbetti. There was no question that this restaurant presents authentic Italian cuisine.
The Italian Job Cafe is located at 2810 Harbor Blvd, Channel Islands Harbor. It is open seven days a week for lunch and dinner with free off street parking. For more information call 805 832-4945, on the web at www.italianjobcafe.com.
Who hasn't heard a ringing chorus of "One Hundred Bottles of Beer on the Wall"? Well, we don't know about the singing but we do know where you can find those one hundred bottles of beer. The place is The Kitchen and it is located in downtown Oxnard. Proprietor is Cathie Moreno, a sister of Michelle at La Dolce Vita, and part of that restaurant talented family.
In three and one half years since opening The Kitchen has achieved fame for its outstanding presentation of craft beers to match its down home American menu. Currently there are twelve craft beers on draught and one hundred bottled beers. We love the names they hang on craft beers like Dogfish Head, or Magic Hat or Heretic or Mother Earth.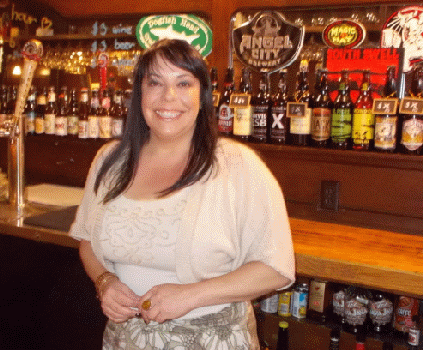 We sampled three beers in a tasting while Cathie overwhelmed us with wonderful appetizers. We tasted a mellow Ale called Mission Blends, then a malt called Hod City's Barking Squirrel and finally Peanut Butter Stout.
The Kitchen is located at 529 South A Street in downtown Oxnard and is open seven days a week from 11 a.m. For more information call 805 385-8980. On the web at www.thekitchenona.com.
We have long been a fan of SeaFresh Restaurant located at Channel Islands Harbor. This time it was take out. We needed a box lunch for our all day trip to Santa Cruz Island aboard Island Packers. When we settled down for lunch at a picnic table on the Island we wolfed down our tuna salad sandwich and bowl of sliced mixed fruit. Later we saw one of the Island foxes foraging around the picnic tables looking for dropped goodies. We had to tell him he would find nothing under our table. SeaFresh won again.
Back to Table of Contents..
Last Update:05/25/14
&copy 2014 Hilbers All Rights Reserved.
Graphic Design by Impact Graphics