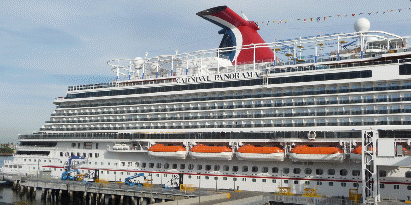 ---
A Long Beach--Special events highlighted Carnival Panorama's arrival on west coast by Joe Hilbers
Our first view of Carnival Panorama, as we prepared to board, immediately told us that we were about to have a new and exciting experience. As long time cruisers aboard Carnival ships we knew that here with Panorama Carnival was adding much to the cruising experience.
The arrival of Carnival Panorama – the line's first new ship on the West Coast in 20 years – was celebrated in true Carnival Cruise Line fashion with Wheel of Fortune's Vanna White serving as godmother and officially naming the ship during a ceremony on board.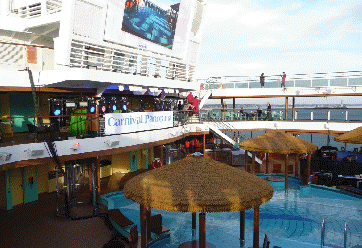 White delivered poignant comments during which she spoke about her love of cruising and the commitment she shares with Carnival to St. Jude Children's Research Hospital, as well as the cruise line's relationship with Wheel of Fortune, which she has co-hosted for the past 37 years.
Then, in a nod to her role on Wheel of Fortune, America's Game®, White turned a series of letters spelling out Panorama that triggered the release of a bottle of Moet champagne to officially name the ship.
The festivities also included a ribbon-cutting ceremony for Carnival Kitchen, a first-in-fleet culinary center that offers more than 15 different interactive cooking, baking and decorating demonstrations.
Joining Carnival President Christine Duffy at the ribbon cutting were Carnival's team of "Culinary All Stars" including Guy Fieri whose Burger Joint and Smokehouse Brewhouse are featured on Carnival Panorama.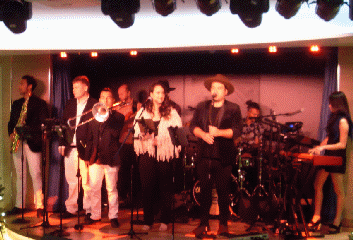 "One of the things we are most proud of is the delicious food we offer across our fleet," said Duffy. "To celebrate Carnival Panorama's inaugural with our very own 'Feast of Fun' featuring our amazing culinary team both on board and through our partnerships really added to the celebration
One of the events we have always enjoyed on Carnival cruises has been a scheduled meeting for veterans to get together and chat. Then a few years ago they changed the format so that veterans attending were only spectators which we did not like.
Now aboard Panorama there is a new special bar and lounge honoring veterans.
Continuing its longstanding support of military women and men, Carnival Cruise Line debuted the "Heroes Tribute Bar," a first-of-its-kind venue on the new Carnival Panorama that salutes our military heroes.
Christine Duffy, president of Carnival Cruise Line, was joined by military personnel and veterans on Carnival Panorama's inaugural sailing for the grand opening celebration and toast with Carnival's extended military family of guests and employees. She also said that a portion of the proceeds from the new entertainment and gathering spot will benefit Carnival partner, Operation Homefront, a national nonprofit organization dedicated to building strong, stable and secure military families. Carnival prides itself on carrying more active and retired military personnel than any other cruise operator.
"The Heroes Tribute Bar is a project that is very near and dear to my heart and one that everyone at Carnival is extremely proud of. We're always looking for new ways to honor our military heroes and this new outlet is a wonderful tribute to the sacrifices of our Armed Services personnel and their families, and a wonderful complement to our extremely popular military tributes which are held on each and every Carnival cruise," said Duffy.
The venue features a distinctive All-American décor with logos of the five armed service branches of the U.S. military as well as patriotic and military memorabilia throughout the room. The venue's walls are lined with photos and messages centering on three main themes: Welcome Home, Thank You for Your Service and America's Heroes.
Our short visit to Panorama included a dazzling display of cocktails, appetizers and a wonderful dinner in a truly beautiful dining room located at the stern of the ship which included two decks, the second as a balcony..
For the next year Carnival Panorama will be on the west coast with weekly trips to Mexico.
.
.
Back to Table of Contents..
Last Update:12/15/19
&copy 2-11 Joe Hilbers All Rights Reserved.
Graphic Design by Impact Graphics