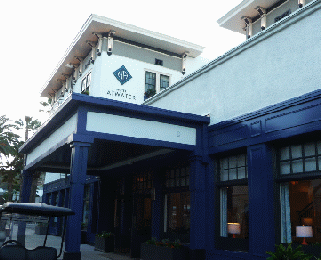 "Avalon--Santa Catalina continues its reputation as the Island of romance and relaxation

by Joe Hilbers/I>
What Catalina appears to leave visitors with is pleasant memories. In this Writer's conversations both on and off the island invariably the reaction was to site pleasant experiences.
There is no question that Catalina has enjoyed an image projected in song and film as an exciting place of romance and relaxation. Certainly in earlier eras it was a playground for the rich and famous . And playing its part for over 80 years is the Casino which was home to big bands and top entertainment draws throughout all those decades.
The steamer, known to all as the "Great white ship" was still in service when we first visited Catalina so many years ago. Our first visit was on business covering a beverage association convention. But then resolved that the whole family must come too so soon we were all on the Great White Ship on holiday.
Now it is the cruise ship with people from all parts and just about every walk of life visiting the Island on a regular schedule. Perhaps like the lyrics of a song from the musical 'South Pacific' people see an island as an escape, a refuge, from the stress and frustrations that at some time befall of all of us.
That song about Catalina "twenty six miles across the sea, the Island of Romance" written by Glen Larson and Bruce Belland still seems appropriate.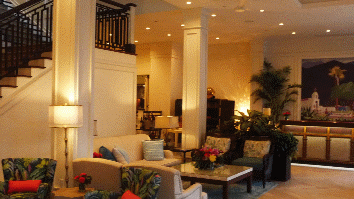 We had planned this trip to Catalina to gather stories for Vittles. But then they began to appear almost without effort on our part.
We were staying at the Atwater Hotel, established in 1920, which proved a delightful and memorable experience. Its decor is a blend of the contemporary and elegance of the past and the friendliness of the staff something to remember.
The Hotel, now operated by Catalina Island Company, is named for one of the original Wrigley family members, Helen Atwater Wrigley. She was a talented musician who enjoyed playing harp, piano and accordion at her Casa Del Monte home in Avalon. Sometimes she would be entertaining guests" in lace and pearls, other times exploring the Island in denim and boots".
History shows everywhere in Avalon. A great story is the club house and golf course.
This Catalina Country Club house and golf course was built by William Wrigley as a place of entertainment and relaxation for his Chicago Cub ball players who did their spring training on the Island each year.
In 1936 and again in 1937 a young sports announcer from Des Moines arranged to join the Chicago team for its spring training on the Island. His name was Dutch Reagan and being personable, enthusiastic and with a gift for interesting conversation he soon became accepted and liked by the Cub management, coaches and players. In fact now and then he would suit up with the team for batting practice. The players knew he had what they called a 'slow bat' but it was all in good fun and the pitchers never threw him their 'good stuff'.
Also Dutch truly enjoyed Mr. Wrigley's stables where he could get a horse to ride the challenging trails and wild back country of the island. P>Then in 1937 while still in California Dutch Reagan took a screen test in Hollywood which was most successful and so signed to a contract. The name Dutch was dropped and from then on it was Ronald Reagan. The rest as the saying goes 'is history'.
The Tuna Club played a huge role in establishing Catalina as a paradise for the sport of game fishing. The most successful western novelist Zane Gray was one who came to the Island for the fishing, liked it so well, that he built a home at Avalon that still standsThe Tuna Club even enjoyed a role in the classic movie "Chinatown".
One prominent guest to the Tuna Club was Winston Churchill who was a visitor in 1929. Being Winston he wanted to find out for himself just what this marlin fishing was all about. He was only in the fishing boat 20 minutes when he hooked a 188 pound Marlin. And shortly after had it in the boat Afterward he was heard to comment that he couldn't see what all the fuss was about with this fishing thing. Presumably he considered overwhelming his political opponents with his brilliant oratory in the House of Commons a much more interesting sport.
Our trip began with the Catalina Express and proved to be an enjoyable experience in itself. We departed from the Long Beach Express terminal conveniently located next to adequate parking. The Terminal is roomy, comfortable and the staff friendly. Once aboard the good ship Jet Cat Express we settled in a comfortable Jet aircraft style chair. Again we found the staff most helpful, helping with the luggage when needed.
On a calm sea, with time to watch pods of dolphins, we arrived promptly at Avalon exactly one hour after our Long Beach departure. The ships of Catalina Express also depart from San Pedro and Dana Point. For reservations and information call 800 995-4386, on the web at CatalinaExpress.com.
Like the bear who wanted to see the other side of the mountain, this Writer had to see the interior of Catalina Island. In all our visits, over quite a few decades, this had never come about. But on this trip that changed.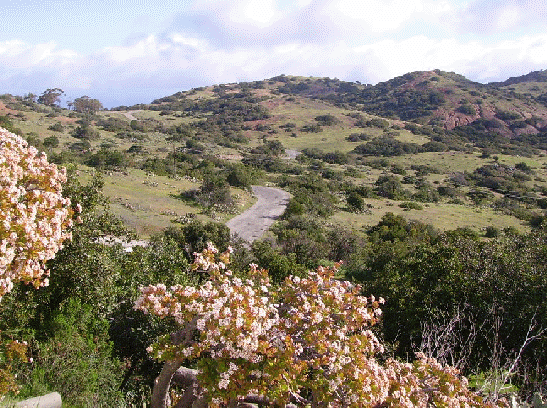 We consulted with Catalina Adventure Tours. Located at the Catalina Mole their Eco-land Excursion seemingly was designed just for us. This trip, by comfortable bus, takes one on an ever climbing mountain road to view the Island's peaks, valleys and canyons. And almost always a view of the ocean and rocky shores far below.
It was immediately evident our Driver knew the territory as he described first, points of interest in Avalon and then a history of the Island from the two tribes of Indians that were its first inhabitants to a chain of ownerships that finalized with acquisition by William Wrigley.
Our timing was perfect since it was still winter and after heavy rains the countryside was green and the ponds full of water. And the wildlife was about. We saw both lone bulls and then a herd of Bison, one at very close range to the delight of all of us with cameras.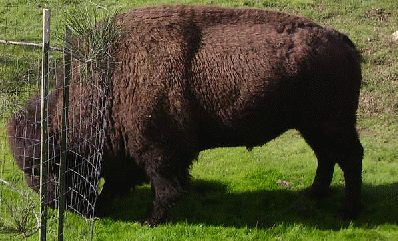 Then we arrived at the Island's airport in the sky. On a sun drenched winter day we admired the nature center which includes a very large relief map of the Island with names of all the principal shore line coves as well as peaks and valleys. There is also an information center with a geology history of the island and listing all the inhabitants from native Americans to Spanish explorers and then up to the present.
Another exhibit displays the animals and reptiles of Catalina include the red foxes native to it. There is a restaurant and snack shop with memorable chocolate cookies at the airport and a delightful patio for viewing a broad landscape.
For more information about the Inland tour or many other Island tours and adventure contact Catalina Adventure Tours on line at www.catalinaadventuretours.com, by phone at 562 432-8828.
Avalon Grillís reputation for culinary success and outstanding service proceeded our visit. Located on Crescent Avenue it is a large restaurant with both indoor and patio dining. Inside it is divided into several intimate dining rooms. The bar and lounge id dominated by a floor to ceiling display of fine wines.
The night we dined there everything lived up to that advance reputation.. We opened with a consomme chicken soup followed by the fried calamari. Knowing the kitchenís reputation for serving fresh caught seafood we ordered the scallops. These came on a bed of cream corn with full flavors and a touch of sweetness. Surrounding all were small perfectly fried potatoes.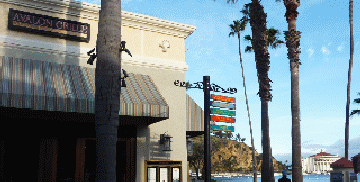 When it was time for dessert we shamelessly ordered the bread pudding, always one of our favorites. It came with heaps of vanilla ice cream surrounded by fresh whipped cream. We can only conclude that Avalon Grill certainly lived up to its reputation for our visit.
Address is 423 Crescent Avenue and Avalon Grill opens daily at 4 p.m. Telephone 310 510-7494.
Back to Table of Contents..
Last Update:1/23/20
&copy 2020 Joe Hilbers All Rights Reserved.
Graphic Design by Impact Graphics