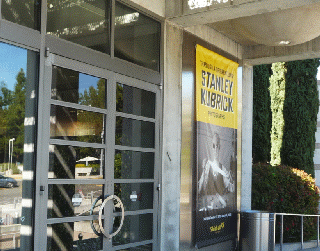 "Los Angeles--The early photography of Stanley Kubrick was on display at Skirball Cultural Center"
By The Editor.
Since opening in 1996 the Skirball Cultural Center in Los Angeles has been an educational institution devoted to sustaining Jewish heritage and American democratic ideals. The scope of its exhibitions has covered many historical subjects and a large range of courses, readings and talks are offered on a regular schedule.
Our most recent visit was to view the photographs and range of Stanley Kubrick. His fame now rests mostly with his work as a filmmaker with classics like 2001: A Space Odyssey and A Clockwork Orange. But his early work as a photojournalist began just out of his teenage years when he became a staff member at Look Magazine. The exhibition at Skirball features some 130 works through these early years with the title "Through a Different Lens: Stanley Kubrick Photographs". Using his native New York Kubrick trained his camera on everything from fashion shows, nightclubs, street scenes and sporting events. His work reveals an assortment of human dramas including some complete stories using black and white video.
The exhibition at Skirball was on loan from Museum of the City of New York and includes the Look Collection and could well be entitled the formative years of Stanley Kubrick.
A visit to Skirball is always a delight since it is easy to find and offers extensive parking and with a host of docents to help one find their way. On this visit we were also eager to have lunch at Zeidler's Cafe which had just reopened after a remake that shows a contemporary decor and exciting menu to match.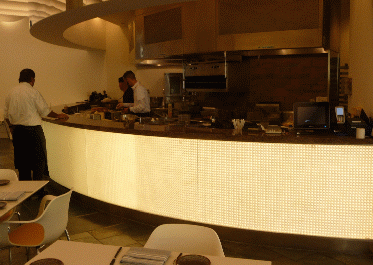 Here there are starters like Za'atar flatbread with choice of hummus or sweet potato fries or Bagel and lox. Salads include Olive oil-poached albacore Nicoise or grilled salmon on a bed of spinach. From the list of entrees that included penne pasta we selected the classic margherita pizza. List of sandwiches is large with smoked salmon pastrami reuben on toasted rye, Beyond Beef burger or Whitefish burger. Besides the usual beverages a list of wines is available by the bottle or glass.
The Cafe borders with views to outdoor gardens and is serviced with a circular exhibition kitchen that adds much to the decor.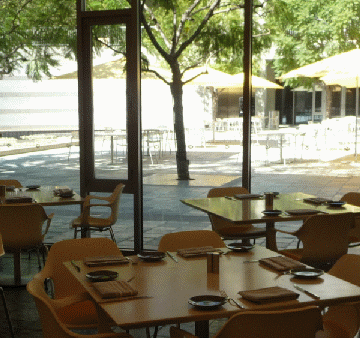 Zeidlerís Cafe is open for lunch only. For hours call Telephone 310 440-4500 Skirball Cultural Center is located at 2701 N. Sepulveda Blvd. Los Angeles,ca 90049. Web www.skirball.org.
Back to Table of Contents

Last Update:3/14/20
&copy 2020 Joe Hilbers All Rights Reserved.
Graphic Design by Impact Graphics