If you are familiar with Phoenicia, the five star restaurant in Glendale, you will immediately notice a dramatic new wine cellar that is a major enhancement to the restaurant.
For many years Ara Kalfayan has been most diligent in selecting wines from many countries but has always has emphasis in the wines of the middle east and his native Lebanon that have a history dating back to centuries before biblical times. Now this marvelous collection of wines is full view of the Phoenicia diner with an open invitation to stroll inside. By the way did I happen to mention that the whole new project was the conception of Ira Kalfayan.
Although he opened up a few restaurants on his journey, Phoenicia has now become a landmark in Glendale. The restaurant features two large outdoor patios, one with a sliding covering roof, and two elegant and artfully designed dining rooms. Artifacts and paintings are on view in nooks and crannies as a backdrop amidst tables covered with peach and white colored linens.
Phoenicia is known for serving authentic Lebanese, Middle Eastern and Mediterranean food, luring couples for romantic dinners, family dinners on Sundays, and large celebrations of every kind. It has won awards as one of the best ethnic restaurants in Southern California. The waitstaff is sensational. Ara's menu is utterly fascinating and enticing!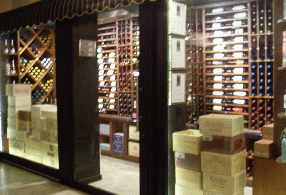 Cold Appetizers include : Labni, condensed yogurt served plain or with garlic; Warak Enab, grape leaves stuffed with rice, oil and veggies, cooked in lemon juice with a drizzle of extra-virgin olive oil; Baba Ghanouj, roasted eggplant finished with tabini and lemon juice; Moussaka, oven-baked chunks of eggplant with tomatoes, onions and garlic; Shanklish, "Chef Specialty"-aged cheese salad served with tomatoes, and onions; and a mouthwatering specialty of Cauliflower, sauteed and seasoned.
Hot Appetizers feature Hommos Kawarma, classic hommos served with tender pieces of lamb and pine nuts; Kibbeh Makli, beef dumplings stuffed with ground beef boulghour, onions and pine nuts; Soujouk, spicy Armenian sausage, air dried and sauteed with onions and tomatoes; Frog Legs, pan seared with lemon juice and cilantro; Rakakat, a selection of Lebanese cheese baked in a pastry dough; Spinach Fatayer, pastry triangles stuffed with soft and fluffy spinach.
Lebanese Gourmet Specialties; Beid Kawarma, a southern Lebanese specialty of ground beef with eggs; Beid Ghanam, lamb pan-fried with garlic and spices; Lessanat, lamb tongue gently cooked to a tender finish with lemon and garlic. Selections from The Grill: Phoenicia Mixed Grill, a delightful mixture of beef, chicken and kafka kebob; Lamb Shank; Lamb Shish Kabab; Beef Shawarma, thin layers of tender beef marinated and grilled on upright spit. Seafood prepared to order pan fried, grilled or oven baked: Jumbo Shrimp; Shrimp Sautee; Shrimp Kebab; Sea Bass; and Salmon Filet.
Wines have long been Ara's hallmark and growing up so close to Napa, he became involved learning and listening to all he could about wines. Ahead of his time he was one of the first to serve wines by the glass. From his new showcase wine cellar comes some fantastic wines from many countries including Lebanon. Legendary wines from Lebanon show a French influence and the red wines are generally blends of varietals like Cinsault, Mourvedre, Syrah,Cabernet Sauvignon, and Petite Verdot. There's a fully stocked bar with top shelf premium liquors and beers.
Live bands and belly dancing add to the atmosphere at the restaurant and nightclub Friday and Saturday 9 p.m. to 2 a.m. with an entertainment menu featuring Cold Mezza, Hot Mezza and Main Course. And there's an active hookah bar. For many years this restaurant has enjoyed a reputation as being ideal for special event celebrations, luncheons, weddings and corporate events.
Phoenicia is located at 343 N. Central Avenue in Glendale, 91203 (818) 956-7800 www.phoeniciala.com
Back to Table of Contents..
Last Update:03/25/20
&copy 2020 Hilbers All Rights Reserved.
Graphic Design by Impact Graphics