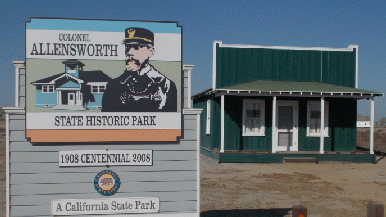 ---
"Colonel Allensworth State Historic Park--Here an early 20th century social experiment is preserved"
By The Editor
In the heart of the San Joaquin Valley, an area has been carefully preserved and restored to mark an effort in the early 20th century to create an independent community for black people.
It is the Colonel Allensworth State Historic Park. The town was founded by a man who was born a slave but rose to become the first black Lt. Colonel in the U.S. Army. In a remarkable list of personal achievements Allen Allensworth was born a slave in 1848. Against the laws of his state at that time, he learned to read and write, joined the U. S. Navy during the Civil War and was discharged as a Petty Officer.
Then adding to his education he became a Baptist minister. He then returned to military service as a chaplain with the 24th Infantry Buffalo Soldiers in the west.
The founding of the town of Allensworth was the fulfillment of a plan to have an entire farming community of African Americans established in the San Joaquin Valley. Land was purchased alongside the railroad and the community established in 1909.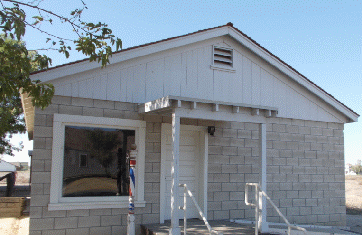 The town was soon successful with a school, church, hotel, retail stores and a barber shop which in a Black community acts as a social center as well. The biggest problem the community faced was a water shortage as the water table steadily lowered. Another problem arose when the railroad removed its rail stop there. By the end of World War 1 decline began and settlers moved elsewhere. Arsenic in the water hastened the end for the town.
Its renovation as a State Historic Park took place in the late 1970s. Renovation and restoration of many of the town's buildings make the park most interesting for the visitor.
The restored buildings now include the library, church, drug store, barber shop, general store and some private homes. All have names and histories listed on plaques for the visitor's information. The Park's brochure includes both a history of the town and also a map.
This Writer visited Colonel Allensworth State Historic Park recently on a summer day. It is easily accessible on Highway 43 from either Highway 99 or Interstate 5. We met with Jerelyn Oliveria who is State Park Interpreter for Allensworth Park as well as the Tehachapi District and Mojave Sector. We then leisurely made our way looking and photographing the buildings and the recreation areas that include a campground and day area picnic area.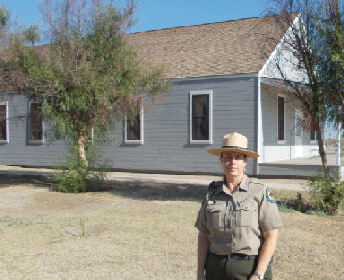 The accidental death of Col. Allensworth in 1914. Kentucky. He was struck by a motorcycle while visiting Monrovia, California.
The Park is open daily from 10 a.m. to 4 p.m. For more information check the web at http://access.parks.ca.gov. Address is Star Route 1, Box 148, Earlimart, Ca 93219. Telephone 661 849-3433.

Back to Table of Contents..
Last Update:9/1/14
&copy 2014 Joe Hilbers All Rights Reserved.
Graphic Design by Impact Graphics